Tours of El Galeón in St Augustine, FL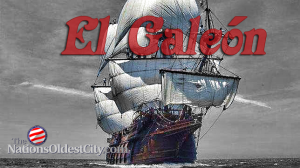 Step back in time aboard El Galeón, a unique replica of the 16th Century Spanish galleons, while it makes its United States debut in four locations during its very special visit to Florida.
As one of the most exciting events of Viva Florida 500, El Galeón: The Viva Florida 500 Voyage will bring the breathtaking majesty of a replica Spanish sailing vessel used in early Colonial times to four ports on Florida's east coast. With information about 16th century European sailing techniques and technology, as well as important Florida history exhibits, El Galeón will tell the 500 year story since the arrival of Juan Ponce de León on the eastern shore of Florida.
El Galeón is a 170 foot, 495 ton, authentic wooden replica of a galleon that was part of Spain's West Indies fleet. The Viva Florida 500 Voyage will include calls at ports in Miami, Fort Lauderdale, Cape Canaveral and St. Augustine beginning April 15 and culminating June 3, as part of the state's 500th anniversary commemoration. VISIT FLORIDA is helping coordinate the tour along with Fundación Nao Victoria who are sailing the ships from Spain via Puerto Rico- following a similar path to that taken 500 years ago.
El Galeón will dock at the St. Augustine City Marina.
Tickets are $15 for adults/$8 for children.
Children 5 and under are free when accompanied by a ticketed adult.
The tours aboard El Galeón will take place at the St. Augustine Marina, 111 Avenida Memendez daily from 9 a.m. – 6 p.m.