St. Augustine Original Chocolate Tour
St. Augustine Chocolate Tour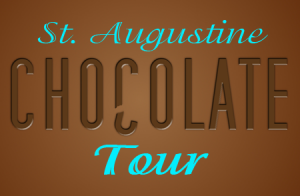 Every Saturday during the months of January and February
The tour is 2 hours long (includes time at the
restaurants
and the guided trolley tour).
Guided journey of chocolate revelation!
Learn the history of chocolate and chocolate formation while sampling truffles, pastries and gooey delights from the finest chocolatiers in all of St. Augustine. You'll think you've won Willie Wonka's Golden Ticket as you step aboard our confectioner's trolley to visit a chocolate paradise.
Before the tour gets underway, chocolate will be thrust upon you as we tell you the story of Peterbrooke's famous "chocolate popcorn" and how it started their adventure in chocolate. Your tour de force will take you to several houses of culinary creation beginning with the Aviles Restaurant at the Hilton Bayfront, where you will enjoy the chef's pièce de résistance. Then, on to the Casa Monica Hotel, where you will enter the lobby of a historic Flagler hotel to sample their own unique chocolate invention, while on your way to Claude's Chocolates just down the hall. Claude's is a French chocolatier which specializes in Belgian truffles and creamy ganache. Here, sample the Chef's masterpiece, while learning the "fine art" of artisan chocolates. Now you are on to the renowned Raintree Restaurant, where you will get a lesson in chocolate tasting from St. Augustine's original Chocolate Family, Whetstone Chocolates. And, just when you think you have seen it all, the heavenly Warm Chocolate Dome Cake is a tantalizing treat to top the tour. Hordes of people marvel at the lovely old-world ambience at the Raintree; but nothing you have ever experienced will prepare you for this unique embodiment of chocolate. Even when your journey has ended, your chocolate indulgence does not…you will leave this trance with a sample of the finest Whetstone Chocolates to carry you home to your dreams.
When 
Every Saturday during the months of January and February
Times 
1:30pm
Where
Departs from the Old Town Trolley Welcome Center at 27 San Marco Ave.
Length
The tour is 2 hours long (includes time at the restaurants and the guided trolley tour)
Cost
The tour is $60 per person.
For reservations and more information call (904) 829-3800
Buy tickets online and save $5! Use promo code SACH10.
BUY TICKETS NOW