Ongoing



A Ghostly Encounter
A 90 minuter walking tour 7 Nights a week.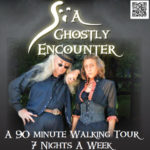 Join our Storytellers as they take you through the old city visiting some of their favorite haunts We begin in the Love Tree Cottage and then stroll the darken streets hearing stories of the long deceased residents who have not moved on, visiting (2) two cemeteries along the way and ending in the tour at the World Famous Love Tree to hear the legend of enternal love.
This is the only ghost tour in town that takes you into a building built on a long ago Indian Village and Burial Ground, You decide whether it is occupied by spirits or not, so please join us, we are dying to meet you.
Call 904-8270807 for reservation.
http://staugustineghosttours.net
Sheriff's Ghost Walk Tours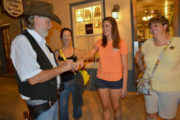 A Ghostly Adventure you will never forget.
A 90 Minute Walk Along The Dark Streets And Cemeteries Of Old St. Augustine. You will hear bone chilling tales of stories long past, stories that have lived for more than 400 years! Our ghost tours have many surprises in store. Beware to the faint at heart!
One Tour Nightly 8:00 PM. For reservation please call 904-540-0031
32 St. George Street @ Fudge Buckets, across from Colonial Quarter
Daily
Art Galleries and Special Museum Tours and Exhibits
Art and culture can be found on every corner of Florida's Historic Coast. For a complete list of special museum exhibits, art galleries shows, and other heritage cultural experiences, please visit
www.HistoricCoastCulture.com
Final Week of Edgar Degas: The Private Impressionist, Works on Paper by the Artist & His Circle
Visit the Lightner Museum to see this exhibition of drawings, prints, photographs, monotypes, correspondence and sculpture from a single private collection. Open daily from 9 a.m.-5 p.m. Museum general admission is $15. The exhibition can be seen for $5 above the price of museum admission through June 16. 75 King St., St. Augustine 904-824-2874
www.lightnermuseum.org
Viewfinder: Edgar Degas' Photographic Vision
Join Flagler College art history professor Chris Balaschak for a talk exploring the impact of photography on the Impressionists at the Lightner Museum from 6-7:30 p.m. As evidenced in the museum's current exhibition Edgar Degas: The Private Impressionist, Degas regularly took and explored the possibilities offered by this new technology. Tickets are $5 and $10. Reservations required.
75 King St., St. Augustine 904-824-2874
www.lightnermuseum.org
Music by the Sea Concert
Enjoy this free weekly concert series at the St. Johns County Ocean Pier Park from 7-9 p.m. This week's music is by Slang. Starting at 6 p.m., dinner is offered as an option for concert goers. 350 A1A Beach Blvd., St. Augustine Beach 904-347-8007
www.freebeachconcerts.com
Summer Movie Series
Join Ripley's Believe It or Not! and the Colonial Oak Music Park for the free Summer Movie Series at the Colonial Oak Music Park. This week's movie is Smallfoot at 8:30 p.m. Visit the website for complimentary shuttle information. 33 St. George St., St. Augustine 904-824-1606
www.ripleys.com/staugustine
Thursday, June 13
Concert in the Plaza
Experience this popular tradition shared by many communities – enjoying a concert in the town square on a summer night. Free and open to the public, this concert features The Grapes of Roth performing from 7-9 p.m. in the Plaza de la Constitución, at Cathedral Place and King St., St. Augustine 904-825-1004
www.citystaug.com/concerts
Evening at The Whitney
The University of Florida Whitney Laboratory will hold a special Evenings at Whitney. As part of Whitney's World Sea Turtle Week events. At 6 p.m. Whitney Laboratory will show the movie, "A Plastic Ocean", in the Lohman Auditorium with a panel discussion to follow.
Admission is free. Center for Marine Studies Lohman Auditorium, 9505 Ocean Shore Blvd.
www.whitney.ufl.edu
Thursday – Sunday, June 13-16
U.S. Open Weekend at the Hall of Fame
Visit the Hall of Fame during the U.S. Open weekend. Enjoy a special photo opportunity with U.S. Open artifacts each day. The tournament will be shown throughout the museum during regular business hours. The museum is open Monday-Saturday 10 a.m.-6 p.m. and Sunday noon-6 p.m. General admission is $20.95. One World Golf Place, St. Augustine 904-940-4000
www.worldgolfhalloffame.org
Smoke on the Mountain at the Limelight Theatre
Enjoy this musical at the Limelight Theatre. Visit the website for performance times. This performance will run through June 29.Tickets range from $20-$26. 11 Old Mission Ave., St. Augustine 904-825-1164
www.limelight-theatre.org
Saturday, June 15
Sea Turtle Discovery Day at the Whitney Laboratory
From 9 a.m. to noon, this family friendly event will have interactive discovery stations to learn about sea turtles, information about research and conservation efforts as well as merchandise to purchase to support the Hospital. 9505 Ocean Shore Boulevard, Marineland.
www.whitney.ufl.edu
Battle of Bloody Mose
Visit Fort Mose Historic State Park for this event from 9 a.m.-4 p.m. with battle re-enactments at noon and 2 p.m. between the British and Scottish invaders and the victorious Spanish defenders along with the free black militia and Native American auxiliaries. Event admission is free. 15 Fort Mose Trail, St. Augustine 904-823-2232
www.floridastateparks.org/fortmose
Vettes at The Village
Join the North Florida Corvette Association for this all-Corvette show at World Golf Village from 10 a.m.-3 p.m. where more than 100 Corvettes will be on display. Spectator admission is free. One World Golf Place, St. Augustine 904-940-4123
www.nfca.net
Living History Saunter
Join living history interpreters from the Historic Florida Militia as they present a timeline of St. Augustine's colonial history from the City Gate down St. George Street to Aviles Street from 5:30-8:30 p.m. The interpreters answer questions related to St. Augustine's history and pose for pictures
.
https://hfm.club/sacalendar
O.A.R. The Mighty O.A.R. Summer Tour with American Authors and Huntertones at The Amp
Doors open at 6 p.m. The performance is at 7 p.m. Admission ranges from $44-$69.50.
1340 A1A South, St. Augustine 904-209-0367
www.theampsa.com
Sunday, June 16
Father's Day at the Hall of Fame
Celebrate Father's Day at the World Golf Hall of Fame. Plus, catch the final round of the U.S. Open playing throughout the museum. The museum is open Monday-Saturday 10 a.m.-6 p.m. and Sunday noon-6 p.m. General admission is $20.95. One World Golf Place, St. Augustine 904-940-4000
www.worldgolfhalloffame.org