Ongoing



A Ghostly Encounter
A 90 minuter walking tour 7 Nights a week.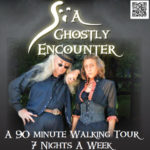 Join our Storytellers as they take you through the old city visiting some of their favorite haunts We begin in the Love Tree Cottage and then stroll the darken streets hearing stories of the long deceased residents who have not moved on, visiting (2) two cemeteries along the way and ending in the tour at the World Famous Love Tree to hear the legend of enternal love.
This is the only ghost tour in town that takes you into a building built on a long ago Indian Village and Burial Ground, You decide whether it is occupied by spirits or not, so please join us, we are dying to meet you. Call 904-8270807 for reservation. http://staugustineghosttours.net/
Sheriff's Ghost Walk Tours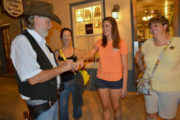 A Ghostly Adventure you will never forget.
A 90 Minute Walk Along The Dark Streets And Cemeteries Of Old St. Augustine. You will hear bone chilling tales of stories long past, stories that have lived for more than 400 years! Our ghost tours have many surprises in store. Beware to the faint at heart!!!
One Tour Nightly 8:00 PM. For reservation please call 904-540-0031
32 St. George Street @ Fudge Buckets, across from Colonial Quarter
http://sheriffsghostwalktours.com/
Monday –

Sunday, November 13 -19
Dressing Downton: Changing Fashions for Changing Times Exhibition
Immerse yourself in fashion and history in this highly anticipated exhibition at the Lightner Museum.Dressing Downton™, a 13-week display of 36 authentic Victorian Era costumes and accessories from PBS's most popular television drama in history, Downton Abbey®, will be elegantly displayed in the museum's Grand Ballroom Gallery. The museum is open Sunday through Thursday from 9 a.m.-7 p.m. and Friday and Saturday from 9 a.m.-5 p.m. Tickets are $20 for adults, $15 for college students and seniors, $10 for 12-17-year-olds, and free for youth under age 12. The ticket cost includes entry to the museum. There will be special Upstairs/Downstairs Tours and Afternoon Teas that take place daily during the exhibition. Tickets can be purchased through the website. 75 King St., St. Augustine 904-824-2874 www.lightnermuseum.org/dressing-downton
Kids Free November at the World Golf Hall of Fame & Museum
Bring the entire family to World Golf Hall of Fame & Museum for Kids Free November. Youth under age 12 get in free all month long. Up to five children get in free with a general admission paying adult. No coupon necessary. This cannot be used for special events or with any other discounts/offers. The museum is open Monday through
Saturday
10 a.m.-6 p.m.
and
Sunday
noon-6 p.m.
One World Golf Place, St. Augustine
904-940-4123
www.worldgolfhalloffame.org
High Tea at Cafe Alcazar
Immerse yourself with the full experience of the
Dressing Downton
exhibition with a special tea in the Cafe Alcazar located in the historic pool area of the Lightner Museum. The high teas will include sweet and savory items reminiscent of Gilded Age high style. Through
January 7
teas will be at
3 p.m. and 4 p.m.
Sunday
–
Thursday
and
2 p.m.
Friday
–
Saturday
. Tickets are required and can be purchased online. Tickets are $55. 25 Granada St., St. Augustine
904-825-9948
www.lightnermuseum.org/high-tea
Upstairs/Downstairs at the Alcazar Tours
The history of the Lightner Museum as well as its former splendor as the Alcazar Hotel shows many parallels to the time period and lives of the characters of the popular television series
Downton Abbey
®. This is a guided tour to areas of the museum typically closed to the public where participants will learn what life was like for both guests and staff who visited and worked at the Alcazar Hotel during the Gilded Age in St. Augustine. The tour lasts one hour and is in addition to the
Dressing Downton
exhibition and continues through
January 7
. Tickets are $45 per person and can be purchased through the website. Reservations are required. This tour is recommended for adults only.
75 King St., St. Augustine
844-426-4088
www.lightnermuseum.org/tours
Monday –

Thursday, November 13 – 16
Thor: Ragnarok at IMAX Theater at World Golf Hall of Fame
Imprisoned, the mighty Thor finds himself in a lethal gladiatorial contest against the Hulk, his former ally. Thor must fight for survival and race against time to prevent the all-powerful Hela from destroying his home and the Asgardian civilization. This film is showing at the IMAX Theater at World Golf Hall of Fame. Visit the website for show times and ticket pricing. One World Golf Place, St. Augustine
904-940-4123
www.worldgolfimax.com
Monday-

Saturday, November 13-18
Tuesday &

Saturday, November 14 & 18
Wednesday

–

Sunday, November 15-19
Thursday, November 16
The Florida State Park Service presents this program series during Native American Heritage Month. On this date, there will be a program titled Everyday Life of the Timucuans
at Faver-Dykes State Park at 2 p.m. Admission ranges from $5-$2. 1000 Faver-Dykes Rd., St. Augustine
904-794-0997
Elvin Bishop's Big Fun Trio at the Ponte Vedra Concert Hall
Enjoy down-home feel-good blues musician Elvin Bishop performing along with his friends, guitarist/pianist Bob Welsh and percussionist/vocalist Willy Jordan – The Big Fun Trio. Doors open at 7 p.m., and the performance is at 8 p.m. Admission ranges from $66.50-$46.50. 1050 A1A North, Ponte Vedra Beach
904-209-0367
www.pvconcerthall.com