Wednesday – Sunday

, October 26 – 30

   
Kids Krew Tours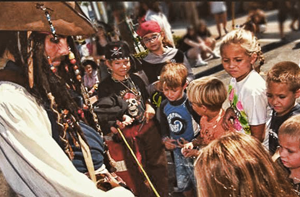 Ahoy!!!! If your a little pirate or even just a pirate at heart come be apart of our Crew!! Join us and learn about pirates in the oldest city by a authentic Pirate guide. Use real nautical tools to help the Captain and crew raid the town for treasure, you take back home with you !! Tours: Fri. 5pm & 6pm Sat. 3pm, 5pm & 6pm Sun. 3pm 5pm & 6pm *Weekday tours, Private tours, VIP tours & Group rates available upon request! Call now to reserve your next adventure with us!! (904) 417-8391 **Mention your a Instagram or Facebook friend to receive a special rate**
http://kidkrewtours.com/
A Ghostly Encounter
Halloween Costume Contest
Sunday, October 30th 2-5 pm
Ancient City Tours will offer our 11th annual free Halloween Costume Contest followed by Trick or Treating in the Historic District! We will have Categories for the contest, and trophies for the winners. Come and join us judging starts at 2pm. Please let us know your coming by logging in to our facebook page event at….
https://www.facebook.com/events/573181012873179/
Sheriff's Ghost Walk Tours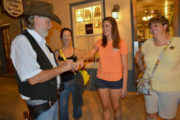 A Ghostly Adventure you will never forget.
A 90 Minute Walk Along The Dark Streets And Cemeteries Of Old St. Augustine.  You will hear bone chilling tales of stories long past, stories that have lived for more than 400 years! Our ghost tours have many surprises in store. Beware to the faint at heart!!!
One Tour Nightly 8:00 PM. For reservation please call 904-540-0031
32 St. George Street @ Fudge Buckets, across from Colonial Quarter
http://sheriffsghostwalktours.com/
Wednesday

,

October 26
Wednesday

–

Sunday, October 26-30
Thursday, October 27
Thursday

–

Saturday, October 27-29
Friday, October 28
Thursday

–

Saturday, October 28-29
Saturday, October 29
Sunday, October 30
Sunday October 30