Ongoing



A Ghostly Encounter
A 90 minuter walking tour 7 Nights a week.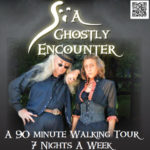 Join our Storytellers as they take you through the old city visiting some of their favorite haunts We begin in the Love Tree Cottage and then stroll the darken streets hearing stories of the long deceased residents who have not moved on, visiting (2) two cemeteries along the way and ending in the tour at the World Famous Love Tree to hear the legend of enternal love.
This is the only ghost tour in town that takes you into a building built on a long ago Indian Village and Burial Ground, You decide whether it is occupied by spirits or not, so please join us, we are dying to meet you. Call 904-8270807 for reservation. http://staugustineghosttours.net/
Sheriff's Ghost Walk Tours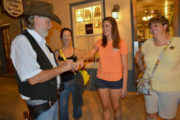 A Ghostly Adventure you will never forget.
A 90 Minute Walk Along The Dark Streets And Cemeteries Of Old
St. Augustine
. You will hear bone chilling tales of stories long past, stories that have lived for more than 400 years! Our ghost tours have many surprises in store. Beware to the faint at heart!!!
One Tour Nightly 8:00 PM. For reservation please call 904-540-0031
32 St. George Street @ Fudge Buckets, across from Colonial Quarter
http://sheriffsghostwalktours.com/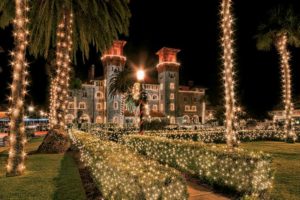 Nights of Lights
During Nights of Lights, St. Augustine glows with holiday magic – from the ground to the rooftops. Known as one of the best holiday lighting displays in the world, St. Augustine's Nights of Lights tiny white lights blanket the city create a magical atmosphere. Tracing its origins to the Spanish tradition of displaying a white candle in the window during the Christmas holidays, the spectacular lighting reflects the city's history and illuminates the beautiful setting for lasting holiday memories.
For a complete list of special Nights of Lights tours, hotel deals and more, visit NightsofLights
Monday- Sunday, December 10-16
Art Galleries and Special Museum Tours and Exhibits
Art and culture can be found on every corner of Florida's Historic Coast. For a complete list of special museum exhibits and art galleries shows, please visit
www.HistoricCoastCulture.com
Monday – Friday, December 10 – 14
Thursday, December 13
Thursday & Friday, December 13 & 14
Thursday – Sunday, December 13-16
Friday, December 14
Friday & Saturday, December 14 & 15
Saturday, December 15
Saturday & Sunday, December 15-16
Steven Wilson at the Ponte Vedra Concert Hall
Doors open at 6:30 p.m., and the performance is at 7:30 p.m. Admission is $40 and $34.50. 1050 A1A North, Ponte Vedra Beach 904-209-0367 www.pvconcerthall.com