Ongoing



A Ghostly Encounter
A 90 minuter walking tour 7 Nights a week.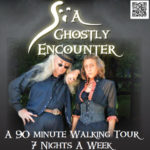 Join our Storytellers as they take you through the old city visiting some of their favorite haunts We begin in the Love Tree Cottage and then stroll the darken streets hearing stories of the long deceased residents who have not moved on, visiting (2) two cemeteries along the way and ending in the tour at the World Famous Love Tree to hear the legend of enternal love.
This is the only ghost tour in town that takes you into a building built on a long ago Indian Village and Burial Ground, You decide whether it is occupied by spirits or not, so please join us, we are dying to meet you.
Call 904-8270807 for reservation.
http://staugustineghosttours.net
Sheriff's Ghost Walk Tours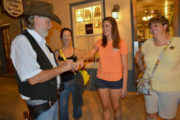 A Ghostly Adventure you will never forget.
A 90 Minute Walk Along The Dark Streets And Cemeteries Of Old St. Augustine. You will hear bone chilling tales of stories long past, stories that have lived for more than 400 years! Our ghost tours have many surprises in store. Beware to the faint at heart!
One Tour Nightly 8:00 PM. For reservation please call 904-540-0031
32 St. George Street @ Fudge Buckets, across from Colonial Quarter
Daily
Art Galleries and Special Museum Tours and Exhibits
Art and culture can be found on every corner of Florida's Historic Coast. For a complete list of special museum exhibits, art galleries, shows and other heritage cultural experiences, please visit
www.HistoricCoastCulture.com
Monday, August 19
Crafts and Drafts at The Cultural Center at Ponte Vedra
From 5:30 to 7 p.m. taste, experience, create and learn with the Cultural Center at Ponte Vedra Beach! Tickets are $35 per person. 50 Executive Way, Ponte Vedra Beach 904-280-0614
www.ccpvb.org
Wednesday, August 21
Let's Talk Turtle
Discover the wonderful world of sea turtles at Anastasia State Park. Learn how to identify turtle nests, hatching, and about the great journey turtles begin after leaving the beach and the dangers they encounter in our oceans. The Program takes place 9-10 a.m. at Anastasia State Park. Admission to the park is $8 per vehicle, $2 for pedestrians and bicyclists. 300 Anastasia Boulevard, St. Augustine.
www.floridastateparks.org/anastasia
Music by the Sea Concert
Enjoy this free weekly concert series at the St. Johns County Pier from 7-9 p.m. This week's music is by
Catch the Groove
.
Starting at 6 p.m., dinner is offered as an option for concert goers. 350 A1A Beach Blvd., St. Augustine Beach 904-347-8007
www.freebeachconcerts.com
Sunset Dolphin Walk
St. Johns County Parks and Recreation along with
Marineland Dolphin Adventure provide a free, educational beach walk. Staff will guide participants on a beach walk while looking for dolphins and enjoying a beautiful sunset. During the walk, learn about dolphin anatomy and behavior as well as other marine species. Registration is required. 2750 Anahma Dr., Vilano Beach
kussia@sjcfl.us
904-209-0335
www.eventbrite.com/e/sunset-dolphin-walk-tickets-57065403157
Bedtime Stories at the Beach
Enjoy a series of songs, stories and rhymes performed by Debra Weller and Kathy Duffy at the Art Studio as Saint Augustine Beach at 7p.m. Tickets are $10 for adults, children are free and must be accompanied. 370A A1A Beach Blvd. 904-377-7063
Birders of all levels are invited to take delight in the variety of herons, egrets, wood storks, hawks, woodpeckers and owls swishing through the trees at Fort Mose. The guided walk takes place from 8-10 a.m. and participation is free. The entry fee to the museum is $2 per person – museum entry not required to participate in program. 15 Fort Mose Road, St. Augustine 904-823-2232
Concert in the Plaza
Experience this popular tradition shared by many communities, enjoying a concert in the town square on a summer night. Free and open to the public, the concert, performed by The Dunehoppers is from 7-9 p.m. in the Plaza de la Constitución. Corner of Cathedral Place and King St., St. Augustine 904-825-1004
www.citystaug.com/concerts
Thursday – Sunday, August 22-25
Fun Home at the Limelight Theatre
Enjoy this musical on stage at the Limelight Theatre at 7:30 p.m. Thursday-Saturday and 2 p.m. Sunday. Showing through August 25. General admission is $26. 11 Old Mission Ave., St. Augustine 904-825-1164 www.limelight-theatre.org
Friday-Sunday, August 23-25
Florida Skimboarding Pro/Am Tournament
The Florida Skimboarding Pro/Am Tournament is taking place in Vilano Beach where competing athletes are from more than 75 different beaches throughout Florida, the United States and the world. This event takes place at the Vilano Beach ramp. Visit the website for the start times, which are subject to change. 2725 Anahma Dr., St. Augustine
904-540-1189
www.rundropslide.com/flproam
Saturday, August 24
Give the Kids the World Pool Party
The Guy Harvey Resort hosts this annual fundraising event that features lots of children's activities, poolside games, live and silent auctions, raffles and giveaways for hotel stays across Florida, and more. Food and beverage are available for purchase. Admission is free from 11 a.m. to 4 p.m. 860A1A Beach Blvd. St. Augustine Beach. 904-471-2555
Sunday, August 25
Vampire Weekend at The Amp
Doors open at 7 p.m. Performance is at 8 p.m. Admission is $54 and $69.50. 1340 A1A South, St. Augustine 904-209-0367
www.theampsa.com