Ongoing



A Ghostly Encounter
A 90 minuter walking tour 7 Nights a week.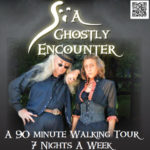 Join our Storytellers as they take you through the old city visiting some of their favorite haunts We begin in the Love Tree Cottage and then stroll the darken streets hearing stories of the long deceased residents who have not moved on, visiting (2) two cemeteries along the way and ending in the tour at the World Famous Love Tree to hear the legend of enternal love.
This is the only ghost tour in town that takes you into a building built on a long ago Indian Village and Burial Ground, You decide whether it is occupied by spirits or not, so please join us, we are dying to meet you. Call 904-8270807 for reservation. http://staugustineghosttours.net/
Sheriff's Ghost Walk Tours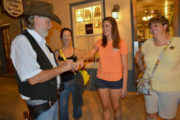 A Ghostly Adventure you will never forget.
A 90 Minute Walk Along The Dark Streets And Cemeteries Of Old St. Augustine. You will hear bone chilling tales of stories long past, stories that have lived for more than 400 years! Our ghost tours have many surprises in store. Beware to the faint at heart!!!
One Tour Nightly 8:00 PM. For reservation please call 904-540-0031
32 St. George Street @ Fudge Buckets, across from Colonial Quarter
http://sheriffsghostwalktours.com/
Monday – Saturday, October 15-20
This exhibition on display at The Cultural Center at Ponte Vedra Beach features works by students of the center. The exhibit will be on display through November 10. Admission to the exhibition is free. The center is open Monday to Saturday 10 a.m.-4 p.m. 50 Executive Way, Ponte Vedra Beach 904-280-0614
www.ccpvb.org
Kathy Stark Exhibition
This exhibition titled The Wilderness of North Florida's Parks is on display at The Cultural Center at Ponte Vedra Beach. The exhibit will be on display through November 10. Admission to the exhibition is free. The center is open Monday to Saturday 10 a.m.-4 p.m. 50 Executive Way, Ponte Vedra Beach 904-280-0614
www.ccpvb.org
Monday – Sunday, October 15 – 21
Flagler 50: Celebrating a College and a Preservation Legacy, 1968-2018 Exhibition
This exhibition is part of the upcoming repertoire of 50th anniversary celebrations at Flagler College. The exhibition features historic photos and morsels of information about the humble beginnings of the college through today. The exhibition can be accessed via Flagler's Legacy Tours or through the Florida Stories phone app available for free download, a newly created 24-page self-guided tour booklet about the historic campus. This special exhibit will be available through May 2019. The cost for the Legacy Tours is $12 for adults and free for youth under age 10 with a paid adult. Tours are offered from 10 a.m.-2 p.m. daily. 74 King St., St. Augustine 904-829-6481
www.flagler.edu/flagler50
SAiRA Restaurant Week
St. Augustine Independent Restaurant Association (SAiRA) is hosting a celebration of the local dining experience. Chefs from each of the 12 participating restaurants will prepare special, adventurous and delicious lunch and dinner menu experiences. Dinners are $35, and lunches are $20. Participants can pick up a Restaurant Week Passport at any SAiRA member establishments listed on the website. Diners who receive passport stamps from five different restaurants throughout the week will receive a $25 SAiRA gift certificate. 904-540-3129
www.staugustinerestaurants.com/restaurantweek
Stop by Rype and Readi's Downtown Farm Market to pick a pumpkin from one of the many found in the pumpkin patch. Also, kids can paint a pumpkin every Saturday in October from 9:30 a.m.-noon. The cost to paint a pumpkin is $3 plus the pumpkin purchase. The Pumpkin Patch will be open through October 31. The downtown location is open 9 a.m.-6 p.m. daily. 115 La Quinta Place, St. Augustine 904-429-3070
www.rypeandreadi.com
First Man at IMAX Theater at World Golf Hall of Fame
This film is a look at the life of astronaut Neil Armstrong and the legendary space mission that led him to become the first man to walk on the moon on July 20, 1969. First Man will be showing through November 1. Visit the website for show times and ticket pricing. One World Golf Place, St. Augustine 904-940-4123
www.worldgolfimax.com
Tuesday, October 16
Tuesday – Sunday, October 16 – 21
Wednesday, October 17
Wednesday, Thursday & Saturday, October 17, 18, 20
Thursday, October 18
Thursday – Sunday, October 17 -21
Friday, October 19
Friday & Saturday, October 19&20
Friday – Sunday, October 19-21
Saturday, October 20
Saturday & Sunday, October 20-21
Sunday, October 21