Ongoing



A Ghostly Encounter
A 90 minuter walking tour 7 Nights a week.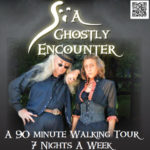 Join our Storytellers as they take you through the old city visiting some of their favorite haunts We begin in the Love Tree Cottage and then stroll the darken streets hearing stories of the long deceased residents who have not moved on, visiting (2) two cemeteries along the way and ending in the tour at the World Famous Love Tree to hear the legend of enternal love.
This is the only ghost tour in town that takes you into a building built on a long ago Indian Village and Burial Ground, You decide whether it is occupied by spirits or not, so please join us, we are dying to meet you.
Call 904-8270807 for reservation.
http://staugustineghosttours.net
Sheriff's Ghost Walk Tours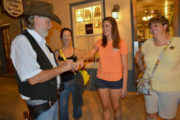 A Ghostly Adventure you will never forget.
A 90 Minute Walk Along The Dark Streets And Cemeteries Of Old St. Augustine. You will hear bone chilling tales of stories long past, stories that have lived for more than 400 years! Our ghost tours have many surprises in store. Beware to the faint at heart!
One Tour Nightly 8:00 PM. For reservation please call 904-540-0031
32 St. George Street @ Fudge Buckets, across from Colonial Quarter
Art Galleries and Special Museum Tours and Exhibits
Art and culture can be found on every corner of Florida's Historic Coast. For a complete list of special museum exhibits, art galleries, shows and other heritage cultural experiences, please visit
www.HistoricCoastCulture.com
Through Sunday, October 13
More than a dozen independently owned St. Augustine restaurants city offer special multi-course prix fixe lunches and dinners through the week. Dinners are $35 and lunches are $20. 904-540-3129.
www.staugustinerestaurants.com/restaurantweek
1¢ LIFE- A Wildly Vibrant Pop Art and Poetry Exhibition at the Cultural Center at Ponte Vedra
This exhibition will celebrate the 55th anniversary of the landmark publication, 1¢ LIFE, with over 55 important original graphics and poems from the publication, which debuted in 1964. The Gallery is open Monday – Saturday 10 a.m. to 4 p.m. and admission is free. 50 Executive Way, Ponte Vedra Beach 904-280-0614
www.ccpvb.org
.
Thursday, October 10
Catfish and the Bottlemen at The AMP Backyard Stage
This Indy Rock Band performs at 7 p.m. Gates open at 6 p.m. Tickets are $35 in advance and $40 at the Gate.
1340 A1A South, St. Augustine 904-209-0367
www.theampsa.com
Marty Stuart's Pilgrim Show at the Ponte Vedra Concert Hall
Contemporary Country Rocker Marty Stuart Celebrates 20th Anniversary of The Pilgrim at 8 p.m. Gates open at 7 p.m. Tickets are $68.50 – $199.
1050 A1A North, Ponte Vedra Beach. 904-209-3753
www.pvconcerthall.com
Maggie Rogers with Guest Jacob Banks at The Amp
Doors open at 6 p.m. Performance is at 7:30 p.m. Admission ranges from $34-$54.
1340 A1A South, St. Augustine 904-209-0367
www.theampsa.com
Steven Page Performs at Ponte Vedra Concert Hall
Doors open at 7 p.m., performance is at 8 p.m. Tickets are $36-$42.50 1050 A1A North, Ponte Vedra Beach. 904-209-3753 www.pvconcerthall.com
Friday – Sunday, October 11 – 13
Sykes Family Farms Crop Maze
Visit Sykes Family Farms where fall is in the air for this family friendly event with a corn maze, hayride, playgrounds, races and viewing of farm animals. The farm is open Friday 6-10 p.m., Saturday 10 a.m.-10 p.m. and Sunday 10 a.m.-5 p.m. General admission is $13 and is all inclusive. Admission for youth ages 2 and under is free. 5995 Brough Rd., Elkton 904-692-1370
www.sycofarms.com
Aqua East GROM Fest: surf, skate, wake
All ages and skill levels have a chance to win cash and prizes from Aqua East Surf Shop with a full weekend of surfing, skateboarding and wakeboarding events for the whole family. On Friday there will be a Skate Jam from 4-7 p.m. at Treaty Park, 1595 Wildwood Dr., St. Augustine. Admission is free. Then on Saturday at 8 a.m., the Surf Contest begins at St. Johns County Ocean Pier Park at St. Augustine Beach. And, on Sunday, the Wake Tournament takes place at 11 a.m. at Palm Valley Outdoor Bar & Grill, 377 S. Roscoe Blvd, Ponte Vedra Beach. The entry fee for the Surf Contest and Wake Tournament is $35 each. 904-246-2550
www.aquaeastgromfest.com
St. Augustine Greek Festival
Celebrate all things Greek – food, dancing, music and heritage – at this annual festival at Francis Field on Friday 4-10 p.m., Saturday 11 a.m.-10 p.m. and Sunday 11 a.m.-5 p.m. General admission is $5. 25 W. Castillo Dr., St. Augustine 904-479-6729
EXP Convention returns to the St. Johns County Convention Center and Renaissance Resort at World Golf Village in St. Augustine for its seventh year. Fans of video games, Japanese animation, comics, cosplay and more converge for an exciting experience. Tickets are $27-$400. Weekend passes are also available. 500 S. Legacy Trail, St. Augustine
La Florida: The Interactive Digital Archive of the Americas Talk at the Cultural center at Ponte Vedra
The public is invited to attend this talk, where Dr. J. Michael Francis will introduce the first phase of a long-term project to identify the men and women who joined Menéndez's 1565 expedition to found St. Augustine. The
discussion will take place at the Cultural Center at Ponte Vedra Beach from 6:30 p.m. to 7:30 p.m., with a light reception beginning at 6:00 p.m. Tickets cost $20 for members and $30 for the general public. 50 Executive Way, Ponte Vedra Beach 904-280-0614
www.ccpvb.org
Join living history interpreters from the Historic Florida Militia as they present a timeline of St. Augustine's colonial history from the City Gate down St. George Street to Aviles Street from 5:30-8:30 p.m. The interpreters answer questions related to St. Augustine's history and pose for pictures.
https://hfm.club/about/events/saunter/
Nahko and Medicine For The People "Take Your Power Back Tour" at The AMP Backyard Stage
Nahko and Medicine for The People with special guest Nattali Rize will perform on the Backyard Stage at The Amp at 7:30 p.m. Gates open at 6 p.m. Tickets are $34.50-$38.00. 1340 A1A South, St. Augustine 904-209-0367
www.theampsa.com
Sunday, October 13
FOSAA Children's Art Festival
Artists and organizations have donated their time and talents to make this an incredibly exciting day of free interactive arts activities. From 10 a.m.- 3 p.m. children can sing, dance, play instruments, engage in a variety of art projects, play theatre games, frolic with pirates, get a library card, join a drum circle, learn about the environment, and lots more.
Something I Will Never Forget Anniversary Paddle
SUP or kayak with a group of distance paddler to raise money for the Alzheimer's Association 8:15 a.m.- 1 p.m. In celebration of the anniversary of the 2018 launch of their 258-mile paddle to Palm Beach, the group will depart from Guana Dam and paddle along the Guana River to the Tolomato River and end at Aunt Kate's for a special celebration lunch. All paddlers are welcome to join the paddle and the lunch. Equipment drop is at the Guana Dam at 8:15 a.m. Car drop at Usina Boat Ramp at North Beach and shuttle back to the Dam is 8:30 a.m. The paddle will launch from Guana Dam at 9 a.m. The anticipated arrival at Aunt Kate's is 11:30 a.m. where lunch will be served. Reservations and advance ticket purchase is required. Tickets are $40 per person and include lunch at Aunt Kate's and a donation to the Alzheimer's Association. 505 Guana River Rd. Ponte Vedra Beach 904-484-6516
www.somethingiwillneverforget.com
This destination race will be hosted at Mickler's Landing and will include an Olympic distance Triathlon, Duathlon and Aquabike as well as the Sprint Triathlon and Sprint Duathlon. The swim will take place in the Atlantic Ocean, with a scenic bike course taking you South on A1A through the Guana Tolomato Matanzas National Estuarine Research Reserve (GTM Research Reserve). Finish with a run North on Ponte Vedra Blvd taking in the views of the lavish homes and jaw-dropping oceanfront settings.
Fall Festival at St. Ambrose Church
Bring the entire family to enjoy the Fall Festival at St. Ambrose Church in Elkton from noon-4 p.m. There will be music, food and games. Admission and parking are free. 6070 Church Rd., Elkton 904-692-1366
www.saintambrose-church.org/page9.html