Monday, August 31 – Tuesday, September 8
Tapestry:  The Cultural Threads of First America
– This signature St. Augustine 450th Commemoration exhibition shares the story of how three intertwining cultures – Hispanics, Africans and Native Americans – came together to form the foundation of American culture and create the blended society of today's St. Augustine.  This state-of-the-art exhibition features authentic objects, original documents and interactive elements.  The exhibition anchors a citywide passport program that connects visitors, residents and students with important historical sites and programs throughout St. Augustine and St. Johns County.  Free admission. Located at the Visitor Information Center, 10 W. Castillo Drive.  Hours:
9 a.m. – 5:30 p.m.
daily.  
904-825-1000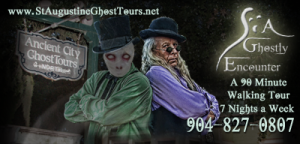 A GHOSTLY ENCOUNTER – It is said that there is an evil spirit tree in a cemetery that stares you down every night…Will you bare your soul to the spirit tree tonight?…It's a full MOON! Join our Storytellers as they take you through the old city visiting some of their favorite haunts. We begin in the Love Tree Cottage and then stroll the darken streets hearing stories of the long deceased residents who have not moved on, visiting (2) two cemeteries along the way and ending in the tour at the World Famous Love Tree to hear the legend of enternal love. This is the only ghost tour in town that takes you into a Haunted building, so please join us, we are dying to meet you. TOUR STARTS AT 6 CORDOVA STREET. Please call 904-827-0807 or 1-877-606-3820 or purchase tickets online for A Ghostly Encounter.  www.staugustineghosttours.net
SHERIFF'S GHOST WALK TOURS A Ghostly Adventure you will never forget.You Will Hear Bone Chilling Tales That Have Lived For More Than 400 Years! A 90 Minute Walk Along The Dark Streets And Cemeteries Of Old St. Augustine. The Sheriffs Ghost Walk Tours is a unique experience. You will hear stories of Haunted Houses, Bed & Breakfasts and The Old Cemeteries! You will walk the dark streets of the nations oldest city of Saint Augustine, Florida. All stories told are so rich in detail they will tingle your spine! All our tours are researched for historical facts.For tickets contact 904-540-0031 or visit website www.SheriffsGhostWalkTours.com One Tour Nightly 8:00 PM
Living in the Age of Airplanes, IMAX Documentary Film – The IMAX Theater at World Golf Village presents a documentary film "Living in the Age of Airplanes" which renews our appreciation for this amazing invention as it stunningly conveys the wonder and grandeur of flying.  The airplane may be the closest thing we have to a time machine.  Adults $13, Seniors/Students/Military $12, and Children 3-12 $10. Visit the website for show times. One World Golf Place, St. Augustine. 904-940-4123www.worldgolfimax.com
Tuesday

:

September 1
Flagler College Community Lecture Series
– As part of the Community Lecture Series marking the 450th year of St. Augustine's official founding, Dr. Timothy Johnson presents "If You Do Not Do this, Florida Will be Lost: Memory and Martyrdom Two Centuries after Menendez".  Admission is $5 (4 lectures for $15) to the
10 a.m.
lecture in the Ponce Hall Solarium at Flagler College.  A coffee and pastry reception will follow.  Reservations required.  74 King Street, St. Augustine.
904-826-8617
www.flagler.edu/our-community
Monday

–

Thursday

:

August 31 – September 3

 
Art Exhibitions at the Cultural Center at Ponte Vedra Beach – Sara Pedigo, Ron Gibbons and Maria Valdez Dullger will exhibit and sell their original works through Sept. 3 at the Cultural Center at Ponte Vedra Beach. Their works of art will be on display Mon.- Thurs. 9 a.m. – 5 p.m.  Admission is free. 50 Executive Way, Ponte Vedra Beach. 904-280-0614. www.ccpvb.org
Wednesday

:

September 2
Music by the Sea
– Every
Wednesday
evening through
October 18
from
7 to 9 p.m.
Music by the Sea live concerts takes place in the beautiful oceanfront setting at The St Johns County Pier Park.  This week's performer is Papercutt playing big hair 80's rock & pop music.  Dinners priced $10 or less from South Beach Grill are available on site. 350 A1A Beach Blvd in St Augustine Beach.
www.thecivicassociation.org
Thursday

:

September 3
St. Augustine Distillery Unveils Rum Discovery Series
– The St. Augustine Distillery unveils its first Discovery Series of rum.  This rum was fermented and distilled on-site from select regional sugarcane syrups and molasses in copper pot stills and the barrel-aged for a distinct flavor profile.  The St. Augustine Distillery is open
Monday
through
Saturday
,
10 a.m. to 6 p.m.
, and
Sunday
,
11 a.m. to 6 p.m.
with free, guided tours and tastings every half hour. Admission is free. 112 Riberia Street, St. Augustine. 
904-825-4962
www.staugustinedistillery.com
Concert in the Plaza  – From 7 to 9 p.m. every Thursday night through September 3 enjoy a live free concert under the live oaks in St. Augustine's Plaza de la Constitucion. This week's performers are The Lonesome Bert & The Skinny Lizards. Bring a chair or blanket for seating. On the Plaza at Cathedral Place and King St.  St. Augustine. www.plazaconcerts.com
Dinner and Show at the Raintree Restaurant
– Celebrate 450 years of Florida's history and a wonderful dinner with Dianne Jacoby as she brings characters from the past to life at
6 p.m.
every
Thursday
in August at Raintree.   Tickets are $45 per person, tax and gratuity included.  Reservations required call The Raintree after
1 p.m.
to reserve now.  102 San Marco Ave., St. Augustine. 
904-824-7211
http://raintreerestaurant.com/florida-the-first-450-years/
Thursday

–

Tuesday

:

September 3 – 8
El Galeón in St. Augustine
– El Galeón, an authentic replica of the ship that traveled between Spain and the New World, including Florida, 450 years ago returns to Matanzas Bay.  Docked at the St. Augustine Municipal Marina, the ship is open from
10 a.m. to 6:30 p.m.
daily for tours. Tickets are $10 for adults, $5 for ages 5-12 and free for youth under age 5.  111 Avenida Menendez.
https://staugustine-450.com/celebrate450-schedule-of-events/
Friday

–

Tuesday

: August 4 – 8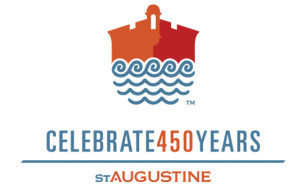 Friday

:

September 4

 
Historic Tours of Flagler College presents Gilded Age Fashion Show – Join us for a Gilded Age Fashion show recreated by the Flagler College Theatre Department at 4 p.m. and 6 p.m. inside Flagler College's Rotunda.
The event is free. Flagler College, 74 King Street 904-823-3378
First

Friday

Art Walk
 – From
1 – 9 p.m.
the Art Galleries of St. Augustine feature new exhibits, refreshments and live music at more than 20 galleries.  The event is held rain or shine inside the member galleries and is a free, self-guided walking tour (tour maps available at participating galleries).  Plus, free Art Walk Trolleys and Trains provided by St. Augustine Sightseeing Trains and
Old Town
Trolleys, provide free transportation throughout downtown for the art walk.
832-779-2781
www.artgalleriesofstaugustine.org
Extended Playbook Exhibit at space:eight
– Extended Playbook, a collaborative effort involving seven outstanding Atlanta artists opens at
4 p.m.
at space:eight.  The opening is from
6-11 p.m.
and all of the artists will be in attendance.  Plus, Dj Damian Lee spins music throughout the evening and Bold City Brew provides refreshments.  Admission is free. The exhibit runs through
December 31
.  228 West King Street, St. Augustine.
904-829-2838
www.spaceeight.com
Friday

–

Sunday

:

September 5 – 6
Celebrate St. Augustine Art Exhibit
– From
5 – 9 p.m.
the  St. Augustine Art Association launches its 92nd season with a juried exhibit "Celebrate St. Augustine".The show runs through
September 28
and reflects St. Augustine's landscape, people, wildlife, history, culture and more in celebration of the citywide 450th anniversary commemoration.    The
gallery
is open
Tuesday
–
Saturday
noon – 4 p.m.
and
Sunday
2 – 5 p.m.
Admission is free.  22 Marine St. St. Augustine.      
904-824-2310
www.staaa.org
Friday

–

Monday

:

September 5 – 7
St. Augustine History Tour
– Enjoy a 1 1/2 hour walking tour and learn about the varied cultural influences, explorers, entrepreneurs and people that have built the legacy of St. Augustine.  Tours take place at
10 a.m.
,
7:30 and 9:30 p.m.
with advanced reservations.  Tickets are $19 per adult and $15 per child under 12 (gratuities for your tour host are not included in the cost of the tour).  59 Cuna St., St. Augustine 904-325-3911  
www.thetastingtours.com
Obelisk Art at Crisp-Ellert Museum
–  A large-scale public art initiative, the Obelisk Art 450 Tour of Compassion showcases the talents of well-known artists who exhibit their work locally, nationally and internationally. Each artists obelisk imaginatively interprets the four foundational values — Freedom, Democracy, Human Rights and Compassion — of the original, 30-foot Monumento de la Constitucion obelisk on St. Augustine's public square.  The 25 Obelisks  will on display at Flagler College's  Crisp-Ellert Art Museum, 48 Sevilla Street,  through
September 18
along with 28 smaller obelisks created by St. Johns County students.   The Museum is open
Monday
–
Friday
9 a.m. to 5 p.m.
http://www.flagler.edu/news-events/crisp-ellert-art-museum
Steven Dean Anderson Exhibit at Villa Zorayda
– See the extraordinary art created by visually-impaired artist Steven Dean Anderson, an artist with unique vision.His art features St Augustine's architectural history and celebrates the city's 450th birthday. Plus, it marks the first time an artist has exhibited in the Villa Zorayda museum since its founding in 1933.  The exhibit opens at
11 a.m.
on
September 4
and runs through
October 1
.  From
11 a.m. to 4 p.m.
on
Monday, September 7
, Anderson will host a "meet and greet"at Villa Zorayda.  The exhibit is included in the regular admission of  $10 for adults; $4 for children.  83 King St., St. Augustine.
904-829-9887
www.villazorayda.com
Sunday

:

September 6
EMMA Concert Association Presents Fiesta 450!
– In celebration of the City of St. Augustine's 450th Commemoration, the EMMA Concert Association presents Fiesta 450! a six-hour all-Spanish-themed extravaganza at the St. Augustine Amphitheatre with   free performances from
4 p.m. – 7:30 p.m.
and a ticketed evening performance of Ensemble Espanol Spanish Dance Theatre at
7:30 p.m.
  Ticketed performance is VIP $100 Level 100, Section 102 Rows A – D; $39 – All remaining in Level 100; $29 – Level 200; $19 Level 300 and obstructed view.  1340 A1A South, St. Augustine
Dinner & Trivia Night at King & Bear – Enjoy a great dinner and exciting trivia at the King & Bear. Dinner is served at 5 p.m. and trivia kicks off at 6 p.m.  Trivia is free and open to the public. Make trivia reservations by calling Ursula Howard at 904-940-6207 2 King & Bear Drive, St. Augustine.
Monday

:

September 7
Patriot Open at the King & Bear –
The King & Bear at World Golf Hall of Fame hosts a four-person team scramble tournament at
8:30 a.m.
  General public $85; active & retired military $75; World Golf Village members $75.  Entry fee includes 18 holes of championship golf, lunch after your round and prizes.  100% of greens fees will be donated to the Folds of Honor Foundation. 
904-940-6207
, 2 King & Bear Drive, St. Augustine.  
www.GolfWGV.com
Celebrate 450 St. Augustine Birthday Cake Cutting and Proclamation Reading
– Get a piece of St. Augustine's 450th birthday cake, enjoy local music and hear the official birthday proclamation read at the Gazebo in the city's Plaza de la Constitucion.  Driftwoods performs from
12 – 2 p.m.
  Official Proclamation and cake from
2 – 3 p.m.
  Mid-Life Crisis performs from
3 – 5 p.m.
Corner of St. George St. and Cathedral Place. 
http://staugustine-450.com/st-augustines-450th-anniversary-celebration
The Original City Walks Savory Faire Food & Wine Tasting Tour
– Eat, drink and taste your way through St. Augustine's delicious historic culinary influences on the Original Savory Faire Food Tour.  Your Culinary Guide explains how certain foods made their way to the New World as you are presented with a special selection from the chef at each hot-spot for food, friends and fun.  You'll also receive a special heritage recipe gift card set as well as some other goodies along the way.  $49 per person, additional boutique wine pairing package available for $19 per person.  Tours depart at
1:30 p.m.
from the Tour St. Augustine office, 4 Granada St., St. Augustine.
904-540-3487
www.StAugustineCityWalks.com
Tuesday

:

September 8
CELEBRATE 450: Menéndez Landing, Procession, Commemorative Mass & Street Festival -On this date in 1565, Don Pedro Menéndez came ashore here to establish the City of St. Augustine.  At7:45 a.m. there will be a countdown ceremony at the Visitor Information Center. Then at 9 a.m., an authentic re-enactment of Menendez' arrival takes place at the Mission Nombre de Dios and is followed at 10 a.m. by a procession by spectators re-enactors and dozens of Bishops from around the world  to the Cathedral Basilica for a 11 a.m. Commemorative Mass. Public viewing of the Mass will take place via a Jumbotron on the west courtyard of the Basilica and Lewis Auditorium at Flagler College. All events are free and open to the public.  27 Ocean Ave., St. Augustine.