Tuesday

–

Sunday

:

May 26 -31
Spanish El Galeon "Andalucia" in St. Augustine
–  The full-sized replica of a 16th century Spanish ship, El Galeon is open for tours at the St. Augustine Municipal Marina.  Named Andalucia, it is an exact replica of the famous galleons that played such an important role in the creation and maintenance of the Spanish Empire.  It is similar to the galleon that brought Pedro Menendez to Florida where he founded St. Augustine in 1565.  The ship is available through July 2015 for tours from
10 a.m. – 6 p.m.
daily.  Admission to El Galeon is $15 for adults; $10 for children 5-12 and free for those younger than 5. Veterans and St. Johns County residents receive a $2 discount per ticket.  111 Avenida Menendez. 904-824-1606  
www.ElGaleon.org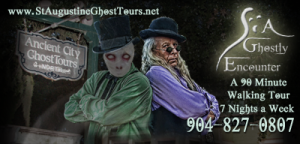 A GHOSTLY ENCOUNTER
 – It is said that there is an evil spirit tree in a cemetery that stares you down every night…Will you bare your soul to the spirit tree tonight?…It's a full MOON! Join our Storytellers as they take you through the old city visiting some of their favorite haunts. We begin in the Love Tree Cottage and then stroll the darken streets hearing stories of the long deceased residents who have not moved on, visiting (2) two cemeteries along the way and ending in the tour at the World Famous Love Tree to hear the legend of enternal love.
This is the only
ghost tour
in town that takes you into a Haunted building, so please join us, we are dying to meet you.
TOUR STARTS AT 6 CORDOVA STREET
. Please call 904-827-0807 or 1-877-606-3820 or purchase tickets online for A Ghostly Encounter.  
www.staugustineghosttours.net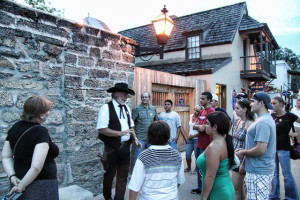 SHERIFF'S GHOST WALK TOURS
A Ghostly Adventure you will never forget.You Will Hear Bone Chilling Tales That Have Lived For More Than 400 Years!
A 90 Minute Walk Along The Dark Streets And Cemeteries Of Old St. Augustine.
The Sheriffs Ghost Walk Tours is a unique experience. You will hear stories of Haunted Houses, Bed & Breakfasts and The Old Cemeteries! You will walk the dark streets of the nations oldest city of Saint Augustine, Florida. All stories told are so rich in detail they will tingle your spine!
All our tours are researched for historical facts.For tickets contact 904-540-0031 or visit website www.SheriffsGhostWalkTours.com One Tour Nightly 8:00 PM
Tapestry:  The Cultural Threads of First America – This signature St. Augustine 450th Commemoration exhibition shares the story of how three intertwining cultures – Hispanics, Africans and Native Americans – came together to form the foundation of American culture and create the blended society of today's St. Augustine.  This state-of-the-art exhibition features authentic objects, original documents and interactive elements.  The exhibition anchors a citywide passport program that connects visitors, residents and students with important historical sites and programs throughout St. Augustine and St. Johns County.  Free admission. Located at the Visitor Information Center, 10 W. Castillo Drive.  Hours: 9 a.m. – 5:30 p.m. daily.   904-825-1000 www.staugustine-450.com/tapestry
Tomorrowland at the IMAX Theater – The World Golf IMAX Theater presents from Disney a two-time Oscar winner Brad Bird's riveting, mystery adventure "Tomorrowland" starring George Clooney.  A  former boy-genius and a bright, optimistic teen embark on a danger-filled mission to unearth the secrets of an enigmatic place somewhere in time and space known only as "Tommorrowland."  Adults $13, Seniors/Students/Military $12, and Children 3-12 $10. Visit the website for show times. One World Golf Place, St. Augustine. 904-940-4123 www.worldgolfimax.com
St. Augustine Art Association's Iconic St. Augustine
 – On exhibit through
June 1
, this show honors the work of the most revered artists spanning decades in this historic
gallery
-wide exhibition that underscores the artistic traditions of America's oldest city.  This exhibit includes selected pieces from the Association's permanent collection and noted area collectors. The gallery is open
Tuesday
–
Saturday
noon – 4 p.m.
and
Sunday
2 – 5 p.m.
Admission is free.  22 Marine St., St. Augustine.
904-824-2310
www.staaa.org
Tuesday

–

Friday

:  

May 26 – 29
Laird: The Series of Cphace Exhibition – The images in the Cultural Center at Ponte Vedra Beach newest exhibition, Laird:The Cphace Images depict natural phenomena such as glaciers, rainforests, plantations, botanical gardens, swamps, reefs, mud flats and coral landscapes.  The images are captured with a converted camera that records infrared waves of the electromagnetic light spectrum that are invisible to the naked area.  This exhibit will be on display through May and is open Monday –Friday from 10 a.m. – 5 p.m.  Admission is free.  50 Executive Way, Ponte Vedra Beach, 904-280-0614, x205  www.ccpvb.org
Tuesday

:  May 26
Cruise: Navigating By Sail – Relax and let the wind take you on a Matanzas Bay sailing adventure aboard the Schooner Freedom.   Kick back and soak up the sun while listening to St. Augustine Lighthouse historians explain how waterways have influenced the settlement of the nation's oldest city. This soothing two-hour sail departs from the St. Augustine City Marina at 2:15 p.m. Tickets are $50 each and include admission to the St. Augustine Lighthouse and Museum. Complimentary water, wine, beer and soda provided — passengers are free to bring a picnic basket aboard. 111 Avenida Menendez.  904-810-1010 www.schoonerfreedom.com
Wednesday

:  

May 27
Farmer's Arts and Crafts Market – Farmer's Market located at the oceanside St. Johns County Pier Park featuring selections of fresh produce, plants, baked goods, fine art, jewelry and more!  Open 8 a.m. – 12:30 p.m. rain or shine. 350 A1A Beach Blvd., St. Augustine Beach. 904-347-8007 www.thecivicassociation.org
Music by the Sea – Every Wednesday evening through October 18 from 7 to 9 p.m. Music by the Sea live concerts takes place in the beautiful oceanfront setting at The St Johns County Pier Park.  This week's performer is Phoenix playing classic rock music.  Dinners priced $10 or less from La Strada Restaurant are available on site. 350 A1A Beach Blvd., St Augustine Beach.  www.thecivicassociation.org
Thursday

:

May 28
Concert in the Plaza – From 7 to 9 p.m. every Thursday night through September 3 enjoy a live free concert under the live oaks in St. Augustine's Plaza de la Constitucion. This week's performers are the Driftwoods. Bring a chair or blanket for seating.  At the Plaza along Cathedral Place and King St.  St. Augustine www.plazaconcerts.com
Saturday

:  

May 30
Old City Farmers' Market – Features locally grown fresh produce, baked goods, plants and more.  Located at the St. Augustine Amphitheater. Open 8:30 a.m. – 12:30 p.m.  Admission is free. 1340 A1A, St. Augustine. 904-471-3733
Family Farm Day – The Florida Agricultural Museum will host Family Farm Day from 10 a.m. – 4 p.m.  A celebration of Florida farming featuring living historians in period clothing.  There will be plenty of hands-on activities for folks of all ages, craft demonstrations, music, story telling and much more.  Sensible shoes recommended.  Admission is $5, museum members and kids 5 or under are free.  7900 Old Kings Rd. N, Palm Coast. 386-446-7630 www.MyAgMuseum.com
Changing of the Guard – TheFlorida Historic Militia will present a traditional Changing of the Guard where visitors can witness twilight time in colonial St. Augustine. Soldiers guarding the town are dismissed for the night, and their replacements arrive to take over guarding Government House.  The commander of the new watch puts the replacement soldiers through a rigorous drill before they take over their posts.  The retiring soldiers are ordered to clear their weapons with the command of "Disparen!"  The resounding blast of musket fire assures 18th century St. Augustine that the changing of the guard has taken place and the town is safe for the night. The Changing of the Guard is from6:16 to 7:15 p.m. at the Government House on St. Augustine's Plaza de la Constitucion. Following the program, the militia will retreat to the Taberno del Caballo where they will be released to their families.  48 King Street. 904-834-1540  http://hfm.club/garrison/cog/
Uptown Saturday Night  – From 5 – 9 p.m. on the last Saturday of each month, experience live music, refreshments, new exhibits, book signings and much more at the galleries, antique stores and unique shops on St. Augustine's San Marco Ave., between Ripley's Museum and the Mission Nombre de Dios.  The Mission Nombre de Dios provides free parking.
Sunday

:  

May 31
Music in the Box – Live acoustic music by some of the area's best up-and-coming bands and musicians will be on stage at Limelight Theatre's studio space the last Sunday of the month from 6 – 9 p.m.  Admission is $5. Refreshments available for purchase. 11 Old Mission Ave., St. Augustine. 904-825-1164  www.Limelight-Theatre.org
The Psychedelic Furs – The Ponte Vedra Concerts Hall proudly presents quintessential British alternative rock band The Psychedelic Furs at 8 p.m. (doors open 7 p.m.).  Born out the late '70s early '80s post-punk rock scene, the band's self-titled first album became a Top 20 hit in the U.K.   Success in the U.S. soon followed and their original "Pretty in Pink" served as the inspiration for John Hughes' 1986 film of the same name — its sound track went platinum.  Tickets for this seated show are $49.50 first ten rows; $39.50 for all remaining seats. 1050 A1A North, Ponte Vedra Beach. 904-209-0399www.pvconcerthall.com