Ongoing



A Ghostly Encounter
A 90 minuter walking tour 7 Nights a week.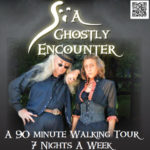 Join our Storytellers as they take you through the old city visiting some of their favorite haunts We begin in the Love Tree Cottage and then stroll the darken streets hearing stories of the long deceased residents who have not moved on, visiting (2) two cemeteries along the way and ending in the tour at the World Famous Love Tree to hear the legend of enteral love.
This is the only ghost tour in town that takes you into a building built on a long ago Indian Village and Burial Ground, You decide whether it is occupied by spirits or not, so please join us, we are dying to meet you.
Call 904-8270807 for reservation.
http://staugustineghosttours.net
Sheriff's Ghost Walk Tours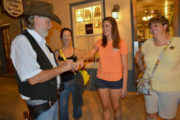 A Ghostly Adventure you will never forget.
A 90 Minute Walk Along The Dark Streets And Cemeteries Of Old St. Augustine. You will hear bone chilling tales of stories long past, stories that have lived for more than 400 years! Our ghost tours have many surprises in store. Beware to the faint at heart!
One Tour Nightly 8:00 PM. For reservation please call 904-540-0031
32 St. George Street @ Fudge Buckets, across from Colonial Quarter
Art Galleries and Special Museum Tours and Exhibits
Art and culture can be found on every corner of Florida's Historic Coast. For a complete list of special museum exhibits, art galleries, shows and other heritage cultural experiences, please visit
www.HistoricCoastCulture.com
Nights of Lights!
Enjoy 26th Annual Nights of Lights when St. Augustine glows with holiday magic – from the ground to the rooftops. Every night through February 2, 2020, the City of St. Augustine is aglow with millions of tiny white lights that create a magical atmosphere for the holiday season, and it's free of charge.904-825-1034
www.nightsoflights.com
Nights of Lights Tours
For a complete list of tours offered nightly on Trains, Trolleys, carriages, boats and more through the Nights of Lights Season, visit
www.NightsofLights.com
Nights of Pints
Celebrate the 3rd annual Nights of Pints where St. Augustine's local breweries offer craft beer lovers a chance to enjoy a free, seasonally brewed pint at each St. Augustine brewery with the purchase of a commemorative t-shirt. T-shirts are $30 and a portion of the proceeds goes to HAWKE Wildlife, a local non-profit that rescues birds of prey and other wild animals in need. Participating breweries include Ancient City Brewing Taproom, 18 Cathedral Place, Dog Rose Brewing Company, 77 Bridge St., Bog Brewing Company, 218 W. King St., and Old Coast Ales, 300 Anastasia Blvd.
www.floridashistoriccoast.com/events/nights-of-pints/
904-217-3355
Florida Freshwater Fishing 101
Join St. Johns County Parks and Recreation for this series of five free clinics every Wednesday through February 5. This clinic will explore the basics about freshwater fishing with live bait. The clinics cover everything from fishing regulations to what bait to use and how to tie knots in fishing line. This clinic is about the rules and regulations of fishing and takes place from 9 to 11 a.m. at Alpine Groves Park on the St. Johns River. The clinic is free and open to the public. Bring sunscreen, hat, sunglasses, and a water bottle, as well as a fishing rod and reel and fishing line. All participants must have a Freshwater Fishing License or be a Florida resident age 65 and over. Alpine Groves Park, 2060 Florida 13, Fruit Cove 904- 209-0355
www.eventbrite.com/e/freshwater-fishing-101-live-bait-tickets-83162195365
From 9-11 a.m., join a guided trail walk at the River-to-Sea Preserve at Marineland. See the changes wrought by Hurricane Irma and Matthew. Then, step into the ancient Florida coastal woodlands along the preserve trail and learn how Native Americans once thrived there on nature's bounty. The event is free, but online registration is required. Meet at the GTM Field Office, just South of Marineland Dolphin Adventure (across from the ocean), 9741 N. Ocean Blvd., St. Augustine 904-823-4500
Ottmar Liebert & Luna Negra at the Ponte Vedra Concert Hall
Doors open at 7 p.m. Performance is at 8 p.m. Tickets are $40-$48. 904-209-0399 1050 A1A N Ponte Vedra Beach
www.pvconcerthall.com
Thursday, January 16
Ancient Dunes Trail Hike
Take a guided hike through ancient dunes shaded by a maritime hammock. Discover the natural communities of Anastasia State Park while exploring this unique trail. Although only a mile long, this hike is more challenging than our other trails due to the natural sloping landscape. The tour starts at the Hilltop Picnic Area. Suggested items to bring are binoculars, comfortable walking shoes, a camera, drinking water, bug spray, and sunscreen. This event is from 10 -11 a.m. and is weather permitting and subject to cancellation. This activity is Junior Ranger Passport Eligible! If you are a Florida State Park Junior Ranger, you can participate in this program to receive a Recreation Stamp in your Junior Ranger Passport. Program is free with regular park admission fee. ($8.00 per vehicle. Limit 2-8 people per vehicle. $4.00 per single-occupant vehicle. $2.00 per pedestrians, bicyclists, extra passengers, passengers in vehicle with holder of Annual Individual Entrance Pass). Anastasia State Park 300 Anastasia Park Rd. 904-461-2033 www.floridastateparks.org
Not In Your Backyard: Invasive Plants
Join Park Naturalist Kelly Ussia from 2 – 3 p.m. at Anastasia Island Library for an opportunity to learn about invasive plant species within Northeast Florida. Participants will learn about the top coastal invasive species, how to remove them, and recommendations on natives to plant. This program is free and seating is on a first-come, first-served basis. For more information, contact Kelly Ussia at
kussia@sjcfl.us
Anastasia Island Library, 124 Sea Grove Main St., St. Augustine Beach 904-209-0335
www.co.st-johns.fl.us/CountyNaturalist/index.aspx

Creative St. Augustine Speaker Series: "American Brilliant Cut Glass"
At. 5:30 p.m., Join master artisan,
Pepi Herrmann
and Lightner Museum educator, Alison Schaeffler-Murphy, for an informative presentation on American Brilliant Cut Glass. Master Crystal Cutter,
Pepi Herrmann
, is one of the few independent Master Crystal Cutters in the United States. The historical prominence of the Gilded Age's Brilliant Period from 1890 -1915. This distinctive cut-glass presentation is sure to demonstrate the importance of this lost art form will be presented. After the talk, an exclusive walk through of the newly opened Cut Glass
Gallery
will take place. Reservations are required. Admission is free. Lightner Museum, 28 Granada St. entrance. 904-824-2874
www.LightnerMuseum.org
Rising Appalachia & Raye Zaragoza at Ponte Vedra Concert Hall
Doors open at 7 p.m. Performance is at 8 p.m. Tickets are $25-$28. 1050 A1A N., Ponte Vedra Beach 904-209-0399
www.pvconcerthall.com
Thursday – Sunday, January 16-19
Saint Augustine Film Festival
Experience this four-day film festival featuring works from around the world and brings in various directors, producers and actors to discuss their works. It takes place at six locations in St. Augustine: the Corazon Cinema and Cafe, 36 Granada St.; Lewis Auditorium at Flagler College, 14 Granada St.; Gamache-Koger Theater, 50 Sevilla St.; Lightner Museum, 75 King St.; Colonial Oak Park at the Colonial Quarter, 43 St. George St.; and Art'N Motion, 283 San Marco Ave. The best way to experience this festival is with a pass, which offers various levels of access. Admission to parties each evening is only available with the all-access pass. Individual tickets are available at the theaters before each film is screened, subject to availability. 904-461-3993
www.staugfilmfest.com
The Young Man From Atlanta at Limelight Theatre
Performances at the Limelight Theatre are Thursday-Saturday at 7:30 p.m. and Sunday at 2 p.m. Admission ranges from $20-$26. 11 Old Mission Ave., St. Augustine
Friday, January 17
Owl & Sunset Symphony
Join County Naturalist AyoLane Halusky at Beluthahatchee Park to learn about owls and enjoy nature's symphony as you experience the transition from light to dark. Water birds and owls often come out to join the evening symphony. A representative from The Stetson Kennedy Foundation will share some local history. This program is free and take place from 5:30-8 p.m. at the Hart House at Beluthahatchee Park, 1523 SR 13, St. Johns. 904-209-0348 www.co.st-johns.fl.us/CountyNaturalist/index.aspx
Saturday, January 18
Matanzas 5K & Fun Run
Participate in this race that takes participants along the Matanzas River through the historic city and ends at Castillo Drive. The 5K begins at 8 a.m., and the free fun run begins at 9:15 a.m. The cost to register ranges from $35-$25. The race starts next to Francis Field. 29 W. Castillo Dr., St. Augustine www.matanzas5k.com
Beach Exploration at the GTM Research Reserve
From 9 to 11 a.m., join GTM Research Reserve docents for a beach walk! You will learn about the animals that call the beach their home, as well as seashells and other interesting facts. This is a "Beaches 101" experience that the entire family will enjoy. The hike will begin at the Visitor Center where you will learn about the different habitats on our beautiful seashore. The group will then walk across the street to the beach for this salty adventure! Parking for this event is located in front of the visitor center. There is no fee for this lot. GTM Research Reserve 505 Guana River Rd Ponte Vedra Beach 904-823-4500
http://gtmnerr.org

Let's Talk Turtle
Discover the wonderful sea turtles of Anastasia State Park! Learn how to identify the turtle nests, hatching, and the great journey they begin after leaving the beach and the dangers they encounter in our oceans. This is a fun filled, energetic program about these miraculous animals who have been on Earth for millions of years! This event take place from 10-11 a.m. and is weather permitting and subject to cancellation. Program is free with regular park admission fee. ($8.00 per vehicle. Limit 2-8 people per vehicle. $4.00 per single-occupant vehicle. $2.00 per pedestrians, bicyclists, extra passengers, passengers in vehicle with holder of Annual Individual Entrance Pass).Anastasia State Park 300 Anastasia Park Rd., St. Augustine 904-461-2033
www.floridastateparks.org/anastasia

Gamble Rogers Concert Series – Low Lily
Enjoy a performance by Low Lily that features excellently matched vocals, world-class playing, sprinkled with raised-off-grid Americana. The performance takes place at Lohman Auditorium at Marineland. Tickets are $15 in advance or $20 at the door. Doors open at 6:00pm, light refreshments will be available for purchase. Music begins at 7:00pm with a brief intermission halfway through. 9505 Ocean Shore Blvd., Marineland
Saint Anastasia Catholic Church Concert Series
This concert at the Saint Anastasia Catholic Church Celebration Hall features the Ben Rosenblum Jazz Trio. The concert is at 7 p.m. Admission is free. There is a $10 suggested donation. 5205 A1A South, St. Augustine Beach 904-471-5364
Sunday, January 19

Guided Bird Walk
Meet the birds at Anastasia State Park, proudly part of the Great Florida Birding and Wildlife Trail! This fun and informative walk is open to participants of all birding levels. Participants will observe a diverse variety of shore birds, marsh birds, and hammock birds by walking the beach, boardwalks, nature trails, and other areas. Please dress for the weather and bring binoculars, water, comfortable walking shoes, and a field guide if you have one. Meet at the Island Beach Shop & Grill pavilion located at the end of the main park drive at 8 a.m. Program is free with regular park admission fee. ($8.00 per vehicle. Limit 2-8 people per vehicle. $4.00 per single-occupant vehicle. $2.00 per pedestrians, bicyclists, extra passengers, passengers in vehicle with holder of Annual Individual Entrance Pass). Anastasia State Park 300 Anastasia Park Rd. 904-461-2033
www.floridastateparks.org/anastasia
Walk on the Wild Side
Join a fun and educational hike through Anastasia State Park with one of the Park's experienced and knowledgeable volunteers! This walk starts out on the beautiful shoreline, continues up through the sand dunes, and travels along the boardwalk over the salt marsh. The walk will continue along Salt Run, our estuarine habitat, and through the maritime hammock. Suggested items to bring are binoculars, comfortable walking shoes, a camera, a reusable water bottle, bug spray, and sunscreen. Meet in the beach parking lot at the end of the main park road to join at 10 a.m. This event is weather permitting and subject to cancellation. Program is free with regular park admission fee. ($8.00 per vehicle. Limit 2-8 people per vehicle. $4.00 per single-occupant vehicle. $2.00 per pedestrians, bicyclists, extra passengers, passengers in vehicle with holder of Annual Individual Entrance Pass). 904-461-2033 Anastasia State Park 300 Anastasia Park Rd., St. Augustine 904-461-2033

Robert Cray at Ponte Vedra Concert Hall
Rootsy, rocking-blues Hall of Famer Robert Cray performs at 8 p.m. Doors open at 7 p.m. Tickets are $59-$89. 1050 A1A North, Ponte Vedra Beach 904-209-0367