Ongoing



A Ghostly Encounter
A 90 minuter walking tour 7 Nights a week.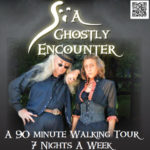 Join our Storytellers as they take you through the old city visiting some of their favorite haunts We begin in the Love Tree Cottage and then stroll the darken streets hearing stories of the long deceased residents who have not moved on, visiting (2) two cemeteries along the way and ending in the tour at the World Famous Love Tree to hear the legend of enternal love.
This is the only ghost tour in town that takes you into a building built on a long ago Indian Village and Burial Ground, You decide whether it is occupied by spirits or not, so please join us, we are dying to meet you.
Call 904-8270807 for reservation. http://staugustineghosttours.net/
Sheriff's Ghost Walk Tours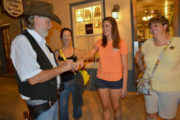 A Ghostly Adventure you will never forget.
A 90 Minute Walk Along The Dark Streets And Cemeteries Of Old
St. Augustine
. You will hear bone chilling tales of stories long past, stories that have lived for more than 400 years! Our ghost tours have many surprises in store. Beware to the faint at heart!
One Tour Nightly 8:00 PM. For reservation please call 904-540-0031
32 St. George Street @ Fudge Buckets, across from Colonial Quarter
Businesses and events are open on Florida's Historic Coast. There are a few virtual events taking place and several outdoor activities and events available for your participation.
While participating in events, please be safe and follow CDC guidelines. Wear a face mask, wash your hands frequently and practice 6′ safe distancing.
Virtual Screenings from The Corazon Cinema and Café
A virtual cinema is a new way for audiences to watch latest releases from the safety of homes during this unprecedented time while also supporting your favorite local independent theater, like The Corazon. Featured films include Jazz on a Summer's Day, Change of Life, H is for Happiness and other classic and art cinemas. Rentals are $12 for 72 hours.
www.corazoncinemaandcafe.com/showtimes
Virtual Tours of Castillo de San Marcos
Don't let the Covid shutdown prevent you from exploring the oldest masonry fortress in North America. The "Fort" is closed to inside tour for the time being, but you can still visit the grounds. And, you can take a
virtual tours
or watch some of the
educational videos
about the Castillo de San Marcos from anywhere.
Virtual Tours of Historic Flagler College
Flagler's Legacy partnered with a local St. Augustine company, Listing Solutions, to capture the immersive 3D images of the interior of the former famed hotel. Areas included are the courtyard, the Flagler Room, the Dining Hall, Rotunda and the Solarium. Virtual tours are accessible through mobile devices or on desktop and are free to view
here
.
Pilgrimage for the Planet
Take a walk in support of saving the Earth and renew your relationship with nature during the Season of Creation. Through October 4, 2020, Laudato Si' Creation Care Ministry of the Cathedral Basilica of Saint Augustine invites visitors and the community to take a spiritual journey – you choose the walking route that's best for you, there are many all along
Florida's Historic Coast
to choose from. Upon walk completion, share your experience online and earn a Pilgrimage Certificate. For more information call 904-962-6707 or email
artistelyse@yahoo.com
. Register to walk at
here.
Tuesday & Thursday, September 8 & 10
Strengthen and increase your flexibility while getting in shape at the beach. St. Johns County Parks & Recreation is offering an eight-week program that takes place 6-7 p.m. every Tuesday & Thursday at St. Augustine Beach Ocean Pier Park. Registration is $25 for the session. Participants must bring bottled water, yoga mat, and a towel to each class. 350 A1A Beach Blvd., St. Augustine Beach
www.sjcfl.us/Recreation
Tuesday- Friday , September 8-11
St. Augustine Art Association Fall Members Show
This bi-annual exhibition of the St. Augustine Art Association members features a variety of works by emerging, seasoned and professional artists in
gallery
and online. The Gallery is open Tuesday – Friday 1-4 p.m. Admission is free. Note: This exhibit can also be viewed online daily. 22 Marine St., St. Augustine. 904-824-2310
www.staaa.org
Wednesday Pier Farmer's Market
From 8 a.m. to noon every Wednesday enjoy fresh food, live music, craft shopping & fun at the St. Augustine Beach Pier Park, 350 A1A Beach Blvd, St. Augustine Beach.
www.wednesdaypierfarmersmarket.com
Coconut Barrel Farmer's Market
From 5-8 p.m. every Thursday come enjoy fresh food, live music, craft shopping & fun at the Coconut Barrel Artisan Market. 3175 U.S. Highway 1 South, St. Augustine.
www.coconutbarrel.com/events-1
Thursday & Sunday, September 10 & 13
Explore Trout Creek with a St. Johns County Naturalists. Participants will paddle the creek out to the St. Johns River and learn about the unique history and diverse wildlife of the area. Resident providing own Boat: $20 per person; No-resident providing own boat: $30 per person. Rental of equipment is an additional$20 per person. Pre-registration is required for a trip but does not guarantee your spot. Space on a trip is allocated on a first come, first served basis.
Pre-register here
. For more information, contact Kelly Ussia at
kussia@sjcfl.us
or 904-209-0335.
Thursday – Saturday, September 10-12
Heist at Ximinez-Fatio House Museum
Search for clues for the stolen 17th-century Caravaca cross! Each team of detectives will spin the wheel and move through a series of nine rooms eliminating suspects in a live game of Clue! Come and play and see if you can figure out whodunnit! The Heist at the Ximenez-Fatio House Museum takes place every Thursday, Friday and Saturday from 6:30-8 p.m. The cost to participate is $20. Ximenez-Fatio House is located at 20 Aviles St., St. Augustine 904-829-3575
www.ximenezfatiohouse.org/heist
The Cultural Center at Ponte Vedra Beach 10th Annual Home Tour
The ever-popular Ponte Vedra Home & Art Tour is in its 10th season and expected to be one of the best. The 2020 tour will feature exquisite homes in the prestigious neighborhoods of Ponte Vedra Beach. The tour is from 10 a.m. to 4 p.m. Tours start at the Cultural Center at Ponte Vedra Beach. Luxury coaches will be driving to the destinations. Masks are required. The Center's exhibits and Market will be opened, and food trucks will be on site. Tickets are $45 per person. 50 Executive Way, Ponte Vedra Beach, 904-280-0614
www.ccpvb.org/events/upcoming-events
Saturday & Sunday, September 12 & 13
Sing Out Loud Festival – Virtual Sessions
Enjoy an epic celebration of local and regional singers, songwriters and musicians as they take the stage for the Sing Out Loud Festival's Virtual Sessions. This year's online music festival showcases the region's finest musicians in some of the area's most picturesque locations. On Saturday, from 3-8 p.m., enjoy streaming performances by The Wild Shiners, Katie Grace Helow, Jackie Stranger, Fond Kiser, and Davis Loose & The Loose Cannons from Nocatee Preserve and The Back Deck at The Amp. On Sunday from 3-5 p.m. The Florida Chamber Music Project and Sam Pacetti will be streaming form the Ponte Vedra Concert Hall. All concerts are free. For more information and to watch these live performances, visit
www.singoutloudfestival.com
.
Summer Sundays on Florida's Historic Coast
Sundays were always about being care-free, free to run around; free to just hang out; free to do whatever one wanted; guilt-free. This summer, Sundays on Florida's Historic Coast are even more "free" than ever. There are always plenty of
free activities
here, and now with
Summer Sunday special offers
there are even more activities for visitors to enjoy for FREE.