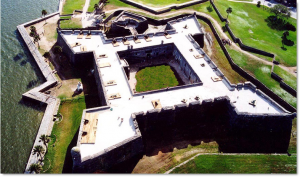 This is the city where it all began. The Spanish conquerors followed Columbus and established here the bridgehead on the American continent. St. Augustine is a small but very interesting and unique tourist destination that is different from the other more traditional tourist destinations and attractions in Florida.
St. Augustine is the oldest American occupied city. First sighted and claimed for Spain in 1513 by the Spanish explorer, Don Juan Ponce de Leon, the city was not explored and colonized until the year 1565 by the Spanish explorer, Don Pedro Menendez de Aviles. The site he discovered is today known as the Mission of Nombre de Dios.
Some of St. Augustine's most popular landmarks include the Castillo de San Marcos National Monument (the fortress on the hill is the oldest structure in the US), a living history museum showing life in St. Augustine in 1740 and the Fountain of Youth where it is said that Ponce de Leon sought and found everlasting youth.
It is still the oldest surviving European Settlement in the Americas.
The city's history and cultural diversity reflect a mix of the Old and the New. The sightseeing tours by train, trolley, horse driven carriages or by cruise boats make history come to life. You will find something for everyone in St. Augustine!