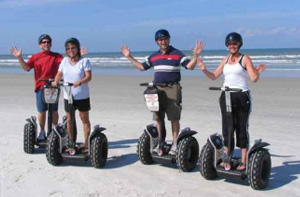 Enjoy Our St. Augustine Beach Adventure!
Experience the classic sights and sounds of St. Augustine Beach, Florida in a new and exciting way! A relaxing glide on a Segway Personal Transporter is a unique and intimate way to see the magnificent scenery and wildlife of St. Augustine Beach. The Tour moves from our showroom and glides onto St. Augustine's world famous beach and floats alongside the white sandy shoreline where you may see dolphins, pelicans, turtles, whales and other wildlife. Ride a Segway today and feel the experience as you step into the future.
History comes to life in Americas oldest city. St. Augustine Beach, the oldest continuously occupied European settlement in the Continental United States, it is a time that showcases nearly 500 years of American History. On our tour you will learn about historical characters of the past whose legacy endures in St. Augustine including Ponce De Leon, whose spirited search for the legendary Fountain of Youth still captures the imagination.
Our Segway Tour runs 1 1/2 hours long and includes training
We also offer a 30 minute Fun & Sun Segway Tour
We can take groups up to 7 people.
Reservations required, call for tour times. Tours leave from our showroom in St. Augustine Beach. Riders must be at least 16 years of age or older and riders under 18 must be accompanied and signed in by a parent or guardian.