The Tim Tebow Foundation Celebrity Golf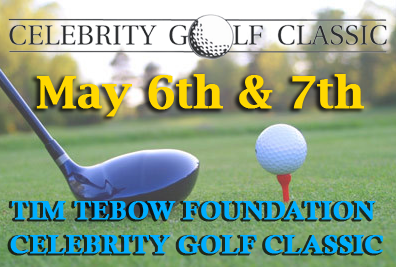 THE PLAYERS Foundation and the
Tim Tebow Foundation
have joined forces to host a
Celebrity tournament
to benefit
Tim Tebow Foundation
and The First Tee.
Tim Tebow has never done things the traditional way. When the Heisman Trophy and National Championship winning Florida Gators quarterback announced the inaugural Tim Tebow Foundation Celebrity Golf Classic to raise money for youth around the world, having numerous celebrities, athletes and coaches playing the pro-am was not enough. So to keep things interesting, Tebow announced that when the event tees off on Saturday, May 7, at 9 a.m. on Dye's Valley Course at TPC Sawgrass, each of the 18 holes will have a unique element.
Each hole will include food stops, athletic competitions and even the rare opportunity for spectators to be invited inside the ropes to participate in the action. The holes will play as follows:
Hole #1 – Food stop – Chick-Fil-A Sandwiches (all food stops are for competitors)
Hole #2 – $15,000 Hole-In-One Contest presented by Capital Analysts
Hole #3 – Putter Challenge – Participants must play the entire hole with their putter
Hole #4 – US Trust "Who do you Trust" Spectator Putt – The groups may choose one spectator to putt for a free stroke.
Hole #5 – Power Balance "Performance Technology" Giveaway
Hole #6 – Dreams Come True – Dreams Come True child can be chosen to hit any of the shots.
Hole #7 – Food stop – Tropical Smoothie Café
Hole #8 – Wounded Warrior Tee Off – Each group hits their tee shots along with a Wounded Warrior; if the group uses the Warrior's shot, they are hitting 1 from where the Warrior's drive landed.
Hole #9 – Food stop – Firehouse Subs
Hole #10 – Hoop it Up – Celebrity will take a foul shot. If celebrity makes the shot, deduct one stroke from score.
Hole #11 – "Visit the Majors" Hole-In-One presented by Jockey
Hole #12 – Punt, Pass and Kick
Hole #13 – Food stop – Auntie Anne's Pretzels
Hole #14 – Speed Golf- Fastest and best score wins
Hole #15 – "The Relaxation Lounge"
Hole #16 – Food stop -Peterbrooke Chocolate
Hole #17 – Long Drive presented by FRS "Healthy Energy"
Hole #18 – Long Drive with Landon Gentry – Team may use the drive of the Landon Gentry Long Driver competitor
Celebrities from the world of sports and entertainment will compete in a shotgun start golf tournament on Dye's Valley Course at TPC Sawgrass. The tournament begins at 9 a.m. and the awards ceremony is at 2:30 p.m.  Among the celebrities expected to be in attendance are NFL running back Adrian Peterson, former University of Florida head football coach Urban Meyer, former NFL head coach and current ESPN NFL analyst Jon Gruden, current University of Florida Head Coach Will Muschamp, ESPN personalities Scott Van Pelt and Kirk Herbstreit and host of the NFL RedZone, Scott Hanson. Tickets are only $12.50.  For more information, visit
http://www.timtebowfoundation.org
.