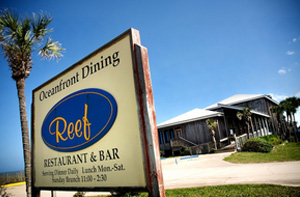 Enjoy one of the most spectacular oceanfront settings in Northeast Florida.
The Reef, originally called Comptons, was built by the Usina family on a beautiful piece of oceanfront property in tranquil North Beach–three miles north of the Usina Bridge–on land owned by the family for generations. Comptons opened in 1989 and enjoyed great success for the next ten years. It closed in 1999 due to the ill health of Mr. Compton and hurricane damage.
The Reef was opened in 2002, under the direct ownership of the Usinas. Since that time the restaurant has worked hard to produce fine food and beverages, professionally served, all accompanied by unsurpassed views of the magnificent Atlantic Ocean. It has steadily built a reputation as one of the most popular dining destinations in St. Augustine.
Hours of Operation: Monday – Thursday 11:30am – 9:00pm
Friday – Saturday 11:30am – 10:00pm
Sunday – 11:00am – 9:00pm
Menu Style: Fresh Fish, Seafood, Chicken, Pork, Pasta, and Salads
Alcohol: Full Bar, International Wine List