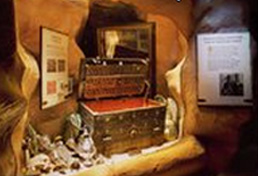 Pirates are about to raid St. Augustine . . . again. "Relive th' adventurous Golden Age o' Sweet trade at th' St. Augustine Pirate & Treasure Museum. Discover authentic artifacts, real booty and get in on interactive gentleman o' fortune fun. Arrrrrrrrrrrrrr."
OPENING NOVEMBER 2010!
Located in the heart of historic downtown St. Augustine just across from the Castillo de San Marcos, The Pirate Museum is within easy walking distance of the shopping district and the City's Historic Downtown Parking Facility. And it sits just along local trolley tours' route.