St Augustine Blessing of the Fleet
Blessing of the Fleet
Sunday, March 24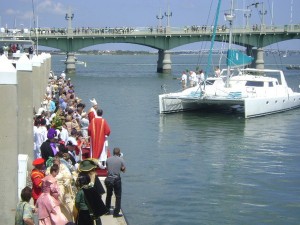 The annual Blessing of the Fleet is conducted in Matanzas Bay following 11 a.m. Mass at the Cathedral Basilica of St. Augustine.
Scheduled to begin at noon from the St. Augustine Municipal Marina, the blessing is for both pleasure and commercial craft. Hosted by the St. Augustine Yacht Club on behalf of the City of St. Augustine and now sponsored by the St. Johns Tourist Development Council, the ceremony dates back to 1946 and is a Palm Sunday tradition in the oldest city.
The actual blessing follows a procession from the Cathedral to the city yacht pier with participants including clergy, members of the Knights of Columbus and members of the Easter Festival Royal Family and Entourage.
For information, call The St. Augustine Yacht Club at 904-824-9725 or go to https://www.staugustineyachtclub.com