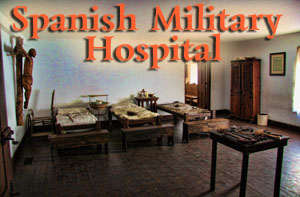 Looking for history, romance, ghosts or just plain fun?
Visit the Spanish Military Hospital Museum and learn of the advanced medical practices of the Spanish in Colonial times.
The Spanish Military Hospital Museum building is a reconstruction of a Military Hospital that stood on this site during the Second Spanish Colonial Period, 1784-1821. Showcased in the museum are areas of Military Hospital life you would have experienced had you been a patient in 1791.