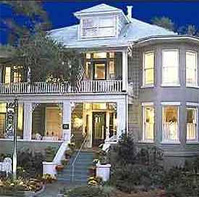 You won't find a more cordial host and hostess than Scott and Donna Forbes who say, "Come and stay with us! Experience our beautiful turn-of-the-century inn where we'll serve you a full and hearty breakfast every morning in either our formal dining room or on one of our spacious verandas."
This elegant Bed and Breakfast Inn, in the heart of St. Augustine's historic district, is built of coquina masonry with columns and verandas that accent her gracious southern charm. Passing horse-drawn carriages contribute to the ambience of a bygone era. Southern Wind Inn bed and breakfast has retained its vintage architecture while offering you the comforts of central air, king and queen size beds, cable TV, in-room DVD players, free high-speed Wi-Fi internet access, and private baths. Each bedroom is appointed with period furnishings and antiques.
BREAKFAST IS SERVED!
In the tradition of fine bed and breakfast inns the world over, each morning the Southern Wind Inn presents guests with a lavish and sumptuous breakfast. Accompanying the hot homemade entree are fresh fruits, juices, cereal, yogurt, assorted breads, and special roast coffee. The tea chest at Southern Wind Inn bed and breakfast includes the finest of teas, from the most exotic and imported blends to Earl Gray.