Privateers Ball in St Augustine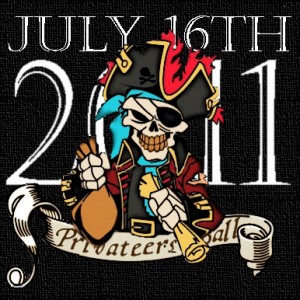 July 16th, 2011, is
Ancient City Privateers
yearly fund raiser.
The ball will encompasses time periods of the 1500 to 1750.  Musical guest will be the popular "Rusty Cutlass", and cash bar will be available that night. The ball gets rolling at 7pm at the Mark Lance National Guard Armory.
Your ticket includes food and music. Spirits will be 3 tokens (you get them at the ball). Show in your best pirate attire or dress for the occasion.
This is an all day event, harking back to the Buccaneer Bashes of old (80′s).  Starting with The Treasure/Scavenger Hunt ( media device needed Digital Camera, Camera Phone or etc. to make your presentation).
There will be limited number of discounted tickets for a  Private Tour at the new Pirate Museum.
Tickets are $40.00/person until July 9th. Space is limited and so are the tickets.
For information, call 829-9132 or 824-4997 or go to www.pirategathering.com.