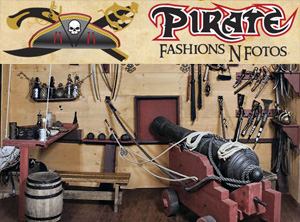 Avast me harties, here be dozen reasons why ye should buy from Pirate Fashions N Fotos, Yarrr!
Pirates Fashion N Fotos be a real 1200 sq ft bricks n' mortar store you can visit 7 days a week instead of a virtual store which has no inventory n' has the manufacturer drop ship to yar location.
Tiger Lee be parts of the pyrate community fer more than 5 years, vended at over 75 pirate related events across the county n' wrote a regular column in Pirates Magazine.
•We be not the low end o' high end of the pirate market place which be filled with cheap plastic toys n' polyester Halloween costumes o' ultra expensive one of a kind hand made treasures crafted by stitch counting historians.
• Pirate Fashions targets the middle ground of affordable pirate garments that look accurate n' be durable enough to fight in.
• We sell pirate n' wench garb, which be period clothing fer everyday wear instead of costumes that are designed for one time use, if they be lastin' that long.
• Pirate Fashion sells stage combat cutlasses design to fight with a false edge instead of cheap knock off that can only cut yar finger n' break if used for anything else than hangin' on a wall. We also teach real naval cutlass swordfighting classes at arrr shop.
• Tiger Lee has an the sea eye fer what looks truly fashionable as he be the creator of the Hot Pirate Babe Calendar fer the past 5 year.
• Tiger Lee orders hundreds of them items for his shop n'only put the best of them for sale on the Internet; since you can't feel or test or try on items over the web.
• We be not faceless corporate suits who only know what the internet tells them.
• We searches the seven seas fer the best pirate gear to provide n' when we can't find them, we produces them ourselves.
• Pirate Fashions don't carry all the mainstream pirate stuff, only the unique – so you won't be lookin' like a damned land lubber masquerading as a pirate wearin' the same thing as everyone else.
• Arrrr site gives ye a bit of history, grand pictures from different angles, useful description about our products in pirate tongue so ye can begin workin' on Talkin' like a Pyrate!