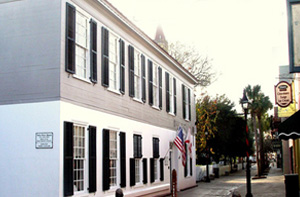 The Pena-Peck House was constructed circa 1750 by order of the King of Spain to be the residence of his royal Treasurer, Juan Esteban de Pena.
Built of native coquina stone, it is one of the finest surviving First Spanish Period home in the city. Today the loggia and the first floor remain little changed.
During the British Period (1763-1784) the home was leased to the aristocratic Dr. John Moultrie of Charleston, South Carolina, as his town house. Moultrie, who became Lt. Governor of Florida, owned vast plantations south of St. Augustine in an area that still bears his name.
Four fireplaces were added to the house and the east wing was constructed. British Governor Patrick Tonyn concluded British affairs in Florida in 1785while living in this house.
Spain regained Florida as a reward for helping the Americans gain their independence from Britain. The Second Spanish Period (1784-1820) saw many changes. The Pena house passed through several owners and was used at one time to house slaves.
In 1821, the United States purchased Florida from Spain and opened the territory to American settlers. Dr. Seth Peck, his wife Sarah, children Rebecca, Mary, Lucy, Sarah and John of Lyme, Connecticut, arrived by schooner in 1833.
They settled into the boarding house of Mrs. Whitehurst on Aviles Street (now known as the Ximenez-Fatio House). While living there, the youngest daughter, Sarah, died…