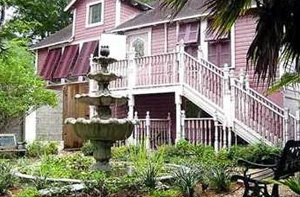 The Inn is located on the horse and carriage tour route and is steps away from three of the most historic landmarks in St. Augustine FL, the Alcazar Hotel, circa 1880 (now the Lightner Museum), the Ponce de Leon Hotel, circa 1888 (now Flagler College), and the Hotel Cordova, circa 1887. A short stroll will take you to the Ancient City's center and Plaza de la Constitution. Retreat into our quiet neighborhood or walk downtown and bask in the city's vibrant nightlife. Guests enjoy the best of both worlds without sacrificing ease of access for quiet repose.
The Peace and Plenty Bed and Breakfast Inn of St Augustine Fl, offers six deluxe suites. Each suite is complete with its own luxurious bathroom including a whirlpool bath, fine towels, soaps and shampoos. Other suite amenities include elegant terry cloth bathrobes, king or queen sized canopy or four poster beds, exquisite linens, cable television, central A/C and heat, iron, hair dryer, and electric fireplaces providing romantic, safe glowing flames. The inn is also equipped with the latest fire safety/sprinkler technology. Wireless DSL Internet access is available for guests who bring their computers and appropriate hardware.
The Peace and Plenty Bed and Breakfast Inn is a luxurious get-away and the perfect romantic setting for any special occasion. A sumptuously furnished apartment with kitchen is available for longer stays in St Augustine FL. All guests can enjoy the private walled garden featuring our elegant fountains, pergola, and opulent loggia with comfortable furnishings. The Peace and Plenty Inn has a no smoking policy.
Guests at our bed and breakfast in St Augustine FL are tempted each day with a variety of gourmet breakfasts that pamper the palette. Eggs Benedict, New Orleans French toast, Belgian waffles, Quiche, and Eggs Menendez are a few of our delightful fixed breakfast menus that start your day at this bed and breakfast in St. Augustine, FL. Blended coffees and juices round out the morning meal. Breakfast is served between 9AM and 10AM in the formal dining room under the warm light of our elegant Victorian brass chandelier. Coffee is usually ready before 9AM for those early risers staying with us. Guests can enjoy a variety of complimentary beverages in the formal Parlor. The complimentary beverage menu includes wine, imported and domestic beers, and soft drinks.