Oldest House Museum Complex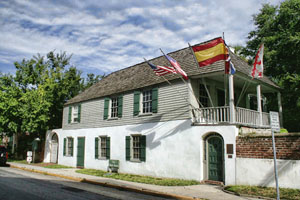 A must-see on your tour of the nation's oldest city. The museum complex, owned and operated by the St. Augustine Historical Society, includes Florida's Oldest House, two museums, a changing exhibition gallery, an ornamental garden, and a museum store. Your admission ticket gives entry to all facilities.
The Oldest House
Our featured attraction, the González-Alvarez House is the oldest surviving Spanish Colonial dwelling in Florida. The site has been occupied since the 1600s and the present house dates to the early 1700s. Since 1893 visitors have toured the house to see evidence of the Spanish, British and American occupations of St. Augustine and to learn how the residents lived. In 1970 the U.S. Department of the Interior designated the house a National Historic Landmark
The Manucy Museum
Discover how the Oldest House fits into the dramatic story of the nation's oldest city, a saga of exploration and settlement, Christian missions, treasure fleets, pirate raids, wars and sieges, trade and commerce, land booms and railroads, resorts and tourism. The Manucy Museum, located in the 1924 Webb Building, the first edifice in Florida designed and built as a museum, presents St. Augustine's only exhibition that covers over 400 years of Florida's history.
Page L. Edwards Gallery
Located on the first floor of the Dunham Building, the Edwards Gallery presents changing exhibitions of materials drawn from the Historical Society's rich collections as well as traveling exhibits from other museums. The building also contains the Society's administrative offices.
Oldest House Garden
Protected from the street by high walls is a traditional ornamental garden where you can relax amid plants grown by the Spanish, British and American colonists. The garden is a popular site for weddings
Kitchen
Peek into a typical 18th-century-style kitchen detached from the main house.
Museum Store
Find distinctive gifts, souvenirs and St. Augustine's best selection of books on local and Florida history.
Hours and Admission
The Oldest House Museum Complex is open daily 9 a.m. to 5 p.m., except Christmas Day, Thanksgiving and Easter. Guided tours begin every half hour, with the last tour starting at 4:30 p.m.