NIGHTS OF LIGHTS
ST. AUGUSTINE FLORIDA
This year, Nights of Lights "turns on" November 19, 2016, and continues nightly through January 31, 2017.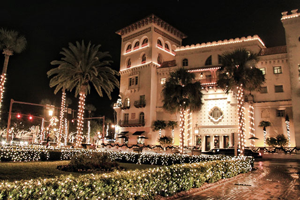 ST. AUGUSTINE'S NIGHTS OF LIGHTS 2016 RETURNS TO FLORIDA'S HISTORIC COAST WITH SURF ILLUMINATION, WINTER WONDERLAND AND FESTIVAL OF TREES.
St. Augustine's annual Nights of Lights glows with holiday magic – from the ground to the rooftops. Selected by National Geographic in 2011 and 2012 as one of the 10 best holiday lighting displays in the world, St. Augustine's Night of Lights features millions of tiny white lights that create a magical atmosphere in the Nation's oldest city. Tracing its origins to the Spanish tradition of displaying a white candle in the window during the Christmas holidays, the spectacular lighting reflects the city's 451-year history and illuminates the beautiful setting for lasting holiday memories.
Nights of Lights can be enjoyed on foot or aboard one of the trains, trolleys, carriages or vintage cars that run every evening from November 21 through end of January.
Nights of Lights continues to gather praise from travel leaders worldwide:
For the last two consecutive years, National Geographic Traveler declared St. Augustine one of the Top 10 Places in the World to view holiday lights
In 2011, the American Bus Association named the annual spectacle one of the Top 100 Events in the U.S.
In 2009, AAA called St. Augustine one of the 12 best places in the U.S. and Canada to experience holiday cheer
Many historic landmarks and locations are beautifully illuminated during Nights of Lights. The waters of Matanzas bay glow from the nightly reflections of lights along the bay walk and the Bridge of Lions. The Plaza de la Constitucion shines from the top of trees and throughout the famous center of St. Augustine's historic district. The 125-year-old Hotel Ponce de Leon, now the campus of Flagler College, is outlined in lights. And the Lightner Museum, once a resort hotel also built by Flagler, is lit so brilliantly it is a favorite among visitors.
Nights of Lights is inspired by the tradition of marking the holiday season with a single white candle burning in a window at each home during the nearly 250 years when St. Augustine served as the capital of Spanish La Florida. Today, Nights of Lights continues that tradition in a grand style reflecting the city's 448 years of history. Visitors and residents can also enjoy a wide range of memorable holiday events and activities during Nights of Lights.
Parking for a fee is available in the St. Augustine Downtown Parking Garage, located off Castillo Drive. On select dates during Nights of Lights, there is a free Park 'n Ride Shuttle available.
Nights of Lights can always be enjoyed on foot, by bicycle or pedicab, on the Old Town Trolley's Famous Nights of Lights Tour or the Ripley's Red Train, or by horse and carriage.