Mission of Nombre de Dios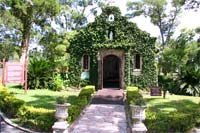 The mission of Nombre de Dios marks the beginning of Christianity in USA. The first Catholic parish Mass on US soil and was held here. Pedro Menendez de Aviles discovered this site in 1565 and it is today known as the founding site of St. Augustine.
He proclaimed the land for Spain and the Church. This was to be a sacred spot where the Spanish settlers would begin devotion to Christianity.
In-house attractions:
Prince of Peace Church was built in 1965 for the Mission's Four Hundredth anniversary. The solid building of coquina stones represents the Christian faith's strength.
The Great Cross is 208 feet high and made of stainless steel. It too celebrates the Four Hundredth anniversary of the Mission and is a tribute to the thriving of Christianity.
Our Lady of La Leche first shrine dedicated to the Blessed Mother in USA.
Fr. Francisco Lopez de Mendoza Grajales: a statue of the chaplain of Menendez' fleet and celebrant of the first parish Mass.
Essential Information:
Located just across the street from the hotel
Open hours: All days
Recommended duration of visit: 1,5 h
Web: http://www.missionandshrine.org
27 Ocean Avenue, (904) 824-2809 or (800) 342-6529