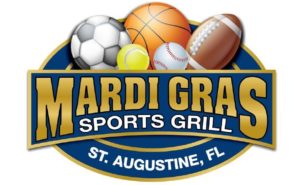 Mardi Gras Sports Grill in the Uptown San Marco area provides an intimate environment for vacationers who want to catch their favorite sports team on television. They also offer drink specials and Entertainment every night of the week, from swing dancing on Tuesdays to karaoke on Wednesdays and live music on stage on Friday and Saturday nights.
With three 8-foot projection screens, this fully equipped sports bar features the NFL Sunday Ticket, College Game Plan, NHL Center Ice, MLB Extra Innings and more. With such a wide selection, visitors are able to catch a variety of games while unwinding with food and drink.
Guests can leisurely enjoy meals and drinks while playing some of the on-site tabletop games. In addition to a spread of sports channels, Mardi Gras Sports Bar also has ping-pong and pool tables. Local bands play every Friday and Saturday night with open mic and jam nights on Monday and Tuesdays.
Mardi Gras Sports Grill is located just north of the Mission Nombre de Dios. It is now open for lunch every day, beginning at 12 noon. They remain open every night until 2 a.m.
Mondays at Mardi Gras Sports Grill is open jam night, featuring a "Musician's Exchange" hosted by Justin Gurnsey at

8 p.m.



Tuesday at Mardi Gras Sports Grill is swing dancing with Adam and Janine. The fun starts at 7:15 p.m. with lessons for newcomers. At 8 p.m., the dance floor is open to all of the regulars who come out each Tuesday to practice East and West Coast swing, the Rumba, the Salsa, the Cha Cha, the Hustle and more.
Wednesday at Mardi Gras Sports Grill is Karaoke with DJ Rob St. John, who hosts the best Karaoke Party in the area. With tens of thousands of songs to choose from, DJ Rob always keeps the night hopping. The fun starts at 9 p.m.
Thursdays at Mardi Gras Sports Grill is "Naughty Bingo," hosted by Karrissa T. Wade! It's traditional bingo with a twist and is for adults only, beginning at 8 p.m.
On Fridays and Saturdays, Mardi Gras Sports Grill hosts top local bands from northeast Florida to play on their 30-foot stage and pack the dance floor. The bands start at 9 p.m. and play until 1 a.m. The kitchen is open until midnighton Friday and Saturday nights.
Sundays at Mardi Gras Sports Grill, Fre Gordon hosts the Sunday Night Acoustic Open Mic. Local Musicians come in, sign up, and get on stage to showcase their talent. Open Mic starts at 7 p.m.
Mardi Gras Sports Bar
123 San Marco Avenue,
St. Augustine, FL 32086
Phone: (904) 823-8806
http://mardibar.com
[Best_Wordpress_Gallery id="1″ gal_title="Mardi Gras"]