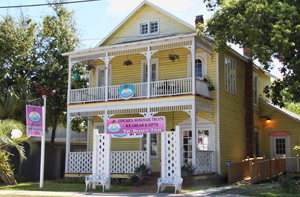 …is located in the historic district of St. Augustine, we bake our cupcakes fresh daily using only the finest ingredients. At LuLi's our goal is to provide our customers with the ultimate comfort food experience, with all of the pleasure and none of the guilt, (well maybe just a little).
We offer an assortment of delicious flavors for special occasions, birthday parties, corporate events or especially "just because".
So, if you're looking for a special way to celebrate or indulge in a much deserved treat, then come into LuLi's Cupcakes and enjoy the perfect treat at the perfect price!
LuLi's Cupcakes highlights ten decadent flavors with a rotating monthly special. Gourmet coffee, specialty breads, cookies, milk and other beverages are also featured on the menu. We also offer wedding and specialty cupcakes as well as in-store parties for anything from kid's birthday's to ladies nights.
The store is located at 82 San Marco Avenue, in the antique district of St. Augustine (right next to Borrillo's Pizza). Store hours are Monday thru Thursday 10:00 a.m. to 6:30 p.m. and Friday to Saturday 10:00 a.m. to 8:00 p.m. Sunday Closed.
For more information call 904-824-5280: luliscupcakes.com