Limelight Theatre 2013 Gala: Best of Broadway!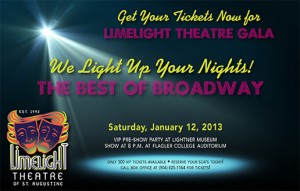 Sat., January 12, 2013
Pre-show Cocktail & Dinner 5:30pm Lightner Museum
The Best of Broadway 8pm
Flagler College Auditorium
The Limelight Theatre Board of Directors will hold a gala event Jan. 12 in Lewis Auditorium at Flagler College, 14 Granada St., downtown St. Augustine. Now in its 21st year, this event is the Limelight's annual fundraiser.
The gala evening will begin with a pre-show cocktail party from 5:30 p.m. to 7:30 p.m. at the historic Lightner Museum in downtown St. Augustine. The reception will include an open bar, hors d'oeuvres and a light dinner buffet. Guests also will have the opportunity to browse a wide variety of amazing items in the silent auction.
"A Tribute to Broadway," directed by Gary Cadwallader with Shelli Long as Music Director, is produced by the Limelight Theatre Board of Directors and Limelight Theatre Executive Director Beth Lambert.
The show will begin promptly at 8 p.m. in the renovated Lewis Auditorium at Flagler College, directly across the street from the Lightner Museum.
Donald and Janice Jones will be the emcees for the evening, and the live production promises to be fun and entertaining, with comedy and perhaps even a surprise in store for the audience.
A dessert and coffee buffet will be featured in the lobby during intermission, as well as another chance to bid on silent auction items. A 50/50 chance drawing will also be held that evening.
Tickets for the drawing are $10 each or three for $25 and are currently available at the Limelight Theatre Box Office through Jan. 11 (need not be present to win).
Tickets for pre-show party admission and reserved seating for the performance are $75 per person.
General admission tickets for the performance only are $40 per person.
Seating is limited. For reservations, call 825-1164 or go to www.limelight-theatre.org.