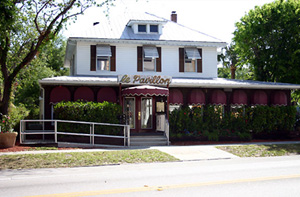 Prior to 1890, San Marco Avenue was know as Shell Road, or the Public Road to Jacksonville. Originally a residential street, it soon became commercial. A gentleman by the name of Duff Green purchased six properties, 45 San Marco being one of them. Duff Green was a young wealthy man from England. He loved the ladies, booze and a good time, and never married. He was also known to sit and gamble with Henry Flagler. He built this house and many others on the strip. These homes were called "Colonial Revival". The house was built in 1868 and sold in 1900 to William Henry Bridier, a bicycle dealer from France. He, his wife, and four daughters were the first family to live here. Since then, there have been many occupants including Fred V. Willis, treasurer and manager of St. Augustine Music and Furniture Company, William B. Parkhill, the St. Augustine Fire Chief, with his family, and Mrs. Bernice Roe who ran a Bed and Breakfast for 35 years as the Siesta Inn. Mr. & Mrs. charles and Marie Register were the last owners.
In 1977 the house was leased to Fritz Dold and it was turned into a restaurant. He convinced his sister Gisele and brother-in-law Chef Claude Sinatsch that it would be a great idea to relocate from New York to St. Augustine. So, the house was purchased and Chef Claude and Gisele and their 2 children, Patricia and Claude Jr., made the move to St. Augustine. They occupied the upstairs, as the downstairs became Le Pavillon Restaurant. As the business grew, rooms were added and renovated but the restaurant still remains an old home. Now Patricia and Joseph Kelbert, along with Claude and Gisele, maintain Le PavilIon as a landmark of excellent food in the European style. Their love of the culinary arts has been passed form one generation to the next.
But, as time goes by we have, over the years, experienced some visitors from the past. The ghosts of Mr. Green and Mrs. Roe especially have been seen in the upstairs dining room. Doors swinging open and shut. Objects move and moaning and creaking is sometimes heard. Probably the old house is settling – or is it? You decide.