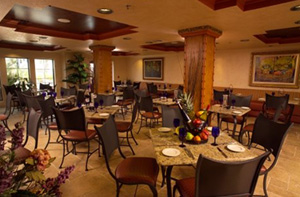 Enjoy international cuisine with Latin flair at this casually elegant restaurant located inside the Castillo Real Hotel.
Chef-owner Juan Solano brings inflections of his native Mexican cuisine to fresh local seafood, crabcakes, filet mignon, pasta dishes, Paella Valenciana, and nightly chef's specials. Lunch features sandwiches, soups, and entrées
Early Bird Specials 4-6 p.m. Sun.-Thurs.
Serving wine and beer; Thursdays bring your own wine (no cork fee).
Open daily: breakfast served 7-10:30 a.m.
Llunch: Tues.-Sun., 11:30 a.m.-2:30 p.m.
Dinner 5 p.m.-till close.
Reservations recommended. On and offsite catering.