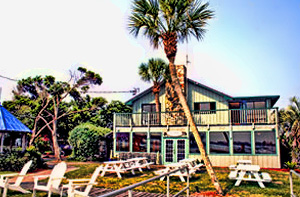 Fresh Fish & Seafood on the Water!
Open for Lunch and Dinner from 11:30 am Daily
Located right at the docks of Camachee Cove Marina, we offer spectacular waterfront views with both inside and outside dining. Enjoy the freshest seafood and casual cuisine served in a relaxed setting. We have something everyone including the kids!
Behind the bright orange and blue walls of Kingfish, the concept is simple…"provide quality food & service; use the best ingredients – the freshest fish – hand selected daily, incorporate organic & locally grown items; strive to exceed customers' needs & expectations – turning the casual passer-by into a regular; and honor the local community in which the restaurant is proud to be a part of.
Kingfish Grill was established in June 2005 by owner Paul Mackey. Originally from coastal New England, the restaurateur has a passion for seafood, using his background & upbringing to contribute to the flare and spice at Kingfish Grill. We invite you to come share our excitement of great food, great service & spirits directly on the water!