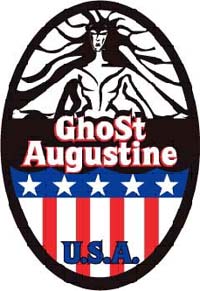 The Haunted Pub Tour takes guests on a pub crawl mixed with true ghost stories. Since the pub crawlers typically spend 30-40 minutes at each establishment there is enough time to both socialize and encounter both types of spirits. The Haunted Pub Tour guide will tell the haunted tales of the pubs and the dark alleys between them.
Encounters with the paranormal are surprisingly common on the tour. As one learns on the tour one can experience a haunting with any of the five senses and seeing a ghost is the most unusual.
Essential Information:
Price $16/person (age 6-16: $8, must go with adult)
Open hours
Every night 8:30 PM (Children allowe
Additional tours Fridays and Saturdays 9 PM (Children not allowed)
Drinking alcohol is allowed on the tour. However, it is not a requirement to do so.
Visit 3 Haunted Pubs during the tour (or more if time permits).
An easy stroll between the pubs with a story or 2 along the way
30-40 minutes approx. inside each Pub gives you time to find the spirits!
123 St. George Street Phone: 904-824-8840