Halloween 2013 in St. Augustine, Florida
When it comes to selecting the perfect place for ghostly fun, it's difficult to find a more haunted location than the Nation's oldest city, St. Augustine, Florida. With nearly 450 years of history, ancient narrow streets, two cemeteries with graves dating back hundreds of years, a brooding Spanish fortress and endless stories of roaming spirits and things that go bump in the night, it's the place to be for all things other-worldly.
Despite daylight's warm Florida sun and beautiful Atlantic beaches, every night of the year features ghost tours and spooky encounters. But when Halloween approaches, that's when the spirits really get busy.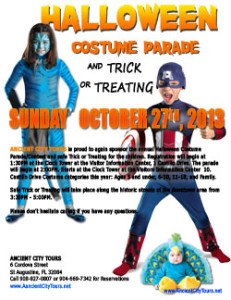 l Downtown Halloween parade: Ancient City Tours will host the annual Halloween costume parade and trick or treating in downtown St. Augustine. Registration will begin at 1:30 p.m. at the clock tower next to the Visitor Information Center, 10 W. Castillo Drive. Parade begins at 2 p.m., with a procession down Saint George Street to the Plaza de la Constitucion for the costume contest. Trick or treating will be from 3:30 to 5 p.m. Admission is free. Go to www.ancientcitytours.net.
ANCIENT CITY TOURS PRESENTS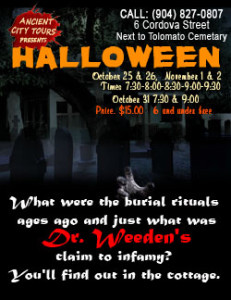 What were the burial rituals ages ago and just what was Dr. Weeden's claim to infamy? You'll find out in the cottage.
October 25 & 26, November 1 & 2 Times 7:30-8:00-8:30-9:00-9:30 October 31 7:30 & 9:00 Price. $15.00 6 and under free.
CALL: (904) 827-0807 6 Cordova Street Next to Tolomato Cemetary
http://staugustineghosttours.net/halloween-2013/