Halloween 2012 in St. Augustine, Florida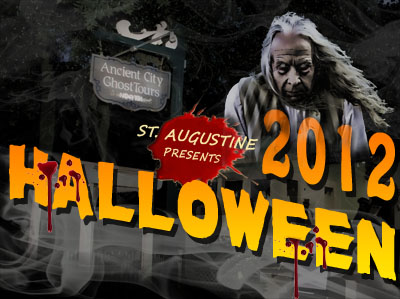 When it comes to selecting the perfect place for ghostly fun, it's difficult to find a more haunted location than the Nation's oldest city, St. Augustine, Florida. With nearly 450 years of history, ancient narrow streets, two cemeteries with graves dating back hundreds of years, a brooding Spanish fortress and endless stories of roaming spirits and things that go bump in the night, it's the place to be for all things other-worldly.   Despite daylight's warm Florida sun and beautiful Atlantic beaches, every night of the year features ghost tours and spooky encounters. But when Halloween approaches, that's when the spirits really get busy.
October 1- 31
ST. AUGUSTINE CITY WALKS HALLOWEEN ORIGINS TOURS
Explore the stories of how many of our present day Halloween customs began… Bonfires, Jack-O-Lanterns, Costumes & Masks, Trick-or-Treating, and more! During the entire month of October, ALL of the St. Augustine City Walks' regularly scheduled evening tours will feature enchanting stories on the history, myths and legends of the Original Halloween, also known as Samhain- The Celtic New Year. Join one of their famous Historic Pub Crawls, Creepy Crawls, or History, Mystery & Murder tours for this special Halloween event! All tours depart downtown regularly, seven days a week. Special discounts available for online booking with all tours. For more information and to reserve your space visit www.StAugustineCityWalks.com or call  904.540.3476 .
October 1-31
ZOMBIEVILLE
This is an interactive paintball experience of horrific proportions! Load up and take aim at the undead, enjoy tales told in the hut of the ancient Zombie, King Motumbo and take a ride on the Zombie Express. Tickets are on sale at Ripley's or at the door. Zombieville can be found at 254 San Marco Ave, at the old Sugar Mill. Doors open at 7:30 every Friday and Saturday night through October. Prices are $10 at the door, or $15 for the Zombie Express leaving from the original Ripley's.Believe It or Not Museum at 19 San Marco Avenue. You can also purchase Zombieville tickets for only $5 with the purchase of a Ghost Train Adventure ticket. For more information, call  904.377.2607 .
October 1-31
GHOST TRAIN ADVENTURE
Board Ripley's black-as-midnight Ghost Train and travel through old St. Augustine in search of the paranormal. Armed with an electromagnetic detection device, passengers may detect the presence of supernatural beings at the Castillo de San Marcos, Huguenot Cemetery and Ripley's very-own Castle Warden. Tickets: $26 adults: $13 children.  904.377.2607 .
October 1 – 31
GHOSTS AND GRAVESTONES FRIGHTSEEING ADVENTURES
Explore the darker side of the Nation's Oldest City with ghost guides and re-live historic haunted tales and legends found at every turn. The tour includes a visit to the Lighthouse Park, where the ghosts of three little girls are said to still haunt the place of their tragic drowning, and a ghost-hunting excursion to the Old Jail, famous for the paranormal activity found there. Voted St. Augustine's Best Ghost Tour three years in a row! Ghosts & Gravestones tours leave nightly from the Old Town Trolley Welcome Center at 27 San Marco Ave., starting at 8:00 p.m. Reservations are required. Tickets are $26 for adults and $14 for children ages 6 – 12 (5 and under are free). Please call  (904) 829-3800 for reservations..
October 1-31 (Fridays, Saturdays and Sundays only)
ST. AUGUSTINE LIGHTHOUSE DARK OF THE MOON TOURS
Go on the only tour that takes participants to the top of the tower of the St. Augustine Lighthouse and into the eerie Keeper's House. Find out why the Syfy Network's Ghost Hunters program called the Lighthouse the "Mona Lisa of paranormal sites." Tours begin at 7:30 p.m. and tickets are $25 for adults ($35 on Halloween) and $20 for children ages 7-11($30 on Halloween). Reservations are required. (Private 90-minute, 3-hour and 5-hour tours are also available.) Call  904.829.0745
October 1-31
A VICTORIAN HALLOWEEN
Experience a Halloween from days-gone-by at the historic Villa Zorayda Museum. Built in 1883, this unique poured-concrete structure is a scaled replica of a portion of Spain's famous Alhambra. Throughout the month, the museum will feature Halloween decorations from the late 1880's and the early 1900's. Visitors may even see the ghost of Franklin Smith, architect and builder of the house, as he writes a letter to his beloved wife, Laura. The fascinating history of the building comes alive through a state-of-the-art guided audio tour. Located at 83 King Street in historic St. Augustine, admission to the Villa Zorayda is $10 for adults; $4 for children ages 8-12; under 7 free. For more information, go to  www.villazorayda.com or call  904.829.9887
October 1 – 31
HAUNTED HEARSE RIDES
Experience a genuine St. Augustine ghost tour – from the eternal comfort of a haunted hearse! Choose from a guided tour down the Ancient City's oldest streets; hear intoxicating tales while enjoying rich ales on a pub tour or go on a more than four-hour total immersion trip into the paranormal world. Tickets range from $16 to $66 depending on the chosen adventure. For more information, call 904.824-8840, or visit http://www.ghostaugustine.com
October 1-31 (Fridays, Saturdays and Sundays only)
HALLOWEEN CORN MAZE
Get hopelessly lost in a nine-acre maze! Fun for the entire family! This third annual maze is at the Sykes and Cooper Farms off SR 207 in Elkton, Florida (about five miles east of I-95 Exit 311). Plus, don't miss Jack the braying donkey, the awesome pumpkin slingshot and the cow train! Tickets (cash only) are $8 per person (children under 2 are free).   The maze is open on Fridays 5-10 p.m.; Saturday 10 a.m. to 10 p.m. and Sunday 1-5 p.m.   For more information, go to www.sycofarms.com or call  904.692.1084 .
October 1-31 (Friday and Saturday nights only)
GHOST HUNT
Get trained to be a ghost hunter by professional investigators! Spend three hours using paranormal-detecting equipment inside the Old Jail and learn about the amazing amount of paranormal activity that has been observed in the building. The tour is from 10:45 p.m. until 2 a.m. Admission is $80 per person; $35 for children under 12 (children under 18 must be accompanied by an adult). For reservations (required), call  904.829.3800 .
October 12, 13, 18, 19, 20, 25, 26, 27, 28 and 31
HALLOWEEN EXPRESS: NIGHTMARE IN THE MUSEUM
Old Town Trolley Tours of St. Augustine has another new adventure, custom-made for Halloween. Prepare yourself for an evening of fun, scares, and ghost stories as you are guided through the streets of America's Oldest City aboard our Halloween Express. Visit the town's most haunted museum, Potter's Haunted House of Wax, for an up-close and personal encounter with the souls of the dead, living within. Tickets are $20 per person and include entry to Potter's Haunted House of Wax. Children under 5 not permitted – this is a frightening experience. Tours begin at 8 p.m. from the Old Town Trolley Welcome Center at 27 San Marco Avenue. Reservations required. 904.829.3800 or  904.826.3663
October 12, 13, 19, 20, 26 & 27
A GHOSTLY EXPERIENCE HALLOWEEN 2012
Just for Halloween, Ghost Tours of St. Augustine has placed a supernatural twist on their infamous "A Ghostly Experience Walking Tour"! Led by a licenses tour guide, participants will meander the haunted streets of the Nation's oldest city and encounter crazed, feisty and swash-buckling spirits anxious to share the tale of their mysterious, warranted and fitting deaths. The tours last approximately one hour and depart every 30 minutes beginning at 8 p.m. from 2 St. George Street. Tickets are $15 per person (ages 6 and under free) and reservations are required. Call 904.829.1122 .
October 14
SUNDAY SUPPER WITH THE SPIRITS
Have a an authentic Gilded Age dinner at the 173-year old Dow House and return to the year 1906 to meet the spirits of two of St. Augustine's daring daughters – Dr. Luella Day McConnell, better known as Diamond Lil, and Ida Alice Flagler, the second wife of millionaire developer Henry Flagler. The evening includes a lantern-lit, guided tour of the nine historic homes on the property and an elegant, plated supper served by candlelight on linen-covered tables. The authentic menu includes sliced beef tenderloin with steamed prawns, horseradish sauce, potatoes maison, steamed carrots, Nantucket salad and Key Lime cake. Red and white wines served throughout the evening. Tickets are $59 per person or $100 per couple and includes a copy of "Daring Daughters" written by local author Karen Harvey. Reservations required. Call  904.823.9722 or 904.501.1253.
October 19, 20, 26 and 27
FLORIDA'S HAUNTED TRAILS
Experience a hauntingly fun evening with the entire family at the Florida Agricultural Museum in Palm Coast. Activities include a wagon ride through spooky woods, haunted houses, storytelling, magic shows, carnival games, headless horsemen, face painting, the singing pumpkin and the scariest stuff imaginable! It all takes place from 6 to 10 p.m. Admission is 10, toddlers under 30 inches in height are admitted at no charge. Florida Agricultural Museum is located 17 miles south of St. Augustine off U.S. 1 at 7900 Old Kings Road North, Palm Coast. For more information, call  386.446.7630 or visit www.MyAgMuseum.com.
October 26 & 27
CHILDREN'S HALLOWEEN WITH MOTHER GOOSEBUMPS
For the very young and the young at heart, join Puppeteer Mother Goosebumps and Lucy Goosey for a "Children's Halloween with Mother Goosebumps" walking ghost tour. Little ones should come in costume to enjoy a milder version of the award-winning walking ghost tour! Goodies Bags will be provided for each paying child! The 30-minute walking tours start at 5, 6 & 7 p.m. from 2 St. George Street in St. Augustine. Tickets are $5 per person. This tour is rated G and children must be accompanied by an adult. Reservations required. 904-829-1122
October 26 & 27
CREATURES OF THE NIGHT AT THE ALLIGATOR FARM
Dress in your favorite costume and head to the St. Augustine Alligator Farm Zoological Park for a fun and safe way for the entire family to enjoy Halloween — perfect for children ages 2-11!  Young ghosts and goblins can wander the wild walkway and encounter costumed animal keepers with creepy creatures and candy! It all takes place from 5:30 to 7 p.m. The night concludes with a special Alligator Feeding Show and a raffle drawing at 7:15 p.m. Admission is $8 for adults and $6 for children. For more information, call       904.824.3337 or visit www.alligatorfarm.com.
October 26, 27, 28 & 31
ANCIENT CITY TOURS: HALLOWEEN 2012
Ever wonder where Halloween traditions came from or how the legend of St. Augsutine's Love Tree began? These and many other questions about Halloween haunts will be answered on these special Ancient City Tours. Departing every 30 minutes beginning at 7 p.m. these tours get off to an auspicious start from the Ancient City office at 6 Cordova Street – next door to the infamous Tolomato Cemetery. Tickets are $15 each (under 6 free) and reservations are required. Call 04.827.0807   www.staugustineghosttours.com and http://ancientcitytours.net/halloween/
October 27
SPOOKTACULAR SHOPPING
Uptown Saturday Night takes on a festive, Halloween theme when the galleries, antique stores and unique shops along St. Augustine's San Marco Avenue stay open until 9 p.m.   Meet-the-artists, book signings, live music and more create a lively, Halloween atmosphere for bargain hunters. Plus, there's free parking at the Mission Nombre de Dios. For more information, Call            904.823.9263.
October 28
COSTUME PARADE AND TRICK OR TREATING
Join Ancient City Tours for their annual Halloween costume parade/contest and trick or treating for the children. The parade will begin at 2 p.m. at the Clock Tower at the St. Augustine Visitor Information Center, 1 Castillo Drive, and end in the downtown Plaza for the costume judging. (Registration will begin at 1:30 p.m.). Then safe trick or treating will take place along the historic streets of the downtown area from 3:30 – 5 p.m. It's all FREE! For more information, call 904.827.0807
October 31 only
TRICK OR TREAT GHOST TRAIN
Family fun aboard Ripley's Ghost Train featuring ghost stories, spooky songs and a stop at the Sugar Mill for trick or treating with Zombies before returning to Ripley's bounce house and balloon animals! The tour is from 6 to 7 p.m. Tickets are $7 for adults and $4 for children ages 4-11 (costumed children ride for free!) For information and reservations, call 904.824.1606 or Visit www.ghosttrainadventure.com.
October 31 only
MIDNIGHT AT THE MUSEUM
End Halloween at midnight and catch the returning spirits until 4 a.m. at Ripley's historic Castle Warden. This exclusive investigation is limited to 30 people, all of whom will receive free use of EMF meters and digital voice recorders. The castle is one of the nation's most well-known haunted structures and has been visited three times by The Atlantic Paranormal Society (TAPS) featuring the celebrated Ghost Hunters. Participants will be briefed on each room's paranormal significance and be given free time to roam through the castle. They will also see an exclusive screening of the pilot episode of Anomaly, the new 3-D paranormal series, filmed at Castle Warden. Tickets are $75 per person. For reservations, call 904.824.1606 or www.ghosttrainadventure.com