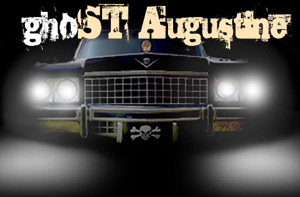 Want to avoid the typical St. Augustine ghost tour crowds? Do you want to have a more genuine ghostly experience? If so, then our Hearse Ride Tour or Total Paranormal St. Augustine Tour is your best choice. If you want to have a spirited evening in double meaning, then the walking Haunted Pub Tour or Pub Hearse Ride will make your night a night you wish you would have remembered… Daytime you can enjoy our Historic Cemetery Ride. Whichever ghost tour of St. Augustine you pick with us will be conducted by a licensed tour guide of the oldest and most haunted city in America. Your ghost host is very well versed in the paranormal and will guide you through the dark haunted history. Yes, for extra tips they will hold your hand if you need comforting or on our haunted pub crawls, all you will need is another drink and you'll see even more spirits. So if you are ready to face the spirits, come with us and GIVE IT A TRY BEFORE YOU DIE.
HEARSE RIDE
A genuine St. Augustine ghost tour through the darkest side of the historic downtown. Get equipped for ghost hunting and cruise in a gothic old hearse on a unique route down streets and around corners that are too narrow for larger tour vehicles. The small tour group size makes the ride a ghostly experience that is more personable, atmospheric and real. Can you imagine a more spooky way to experience St. Augustine? Our hearses seem to be attracting paranormal activity. It seems like the ghosts have made our hearses their second home.
PUB HEARSE RIDE
Join us for a fun night that you will wish you would have remembered. You will ride in one of our two old gothic hearses with your licensed tour guide and fellow pub crawlers to visit haunted locations in St. Augustine, FL.
You are allowed to bring a cooler with drinks and glasses! Most importantly, you will be visiting at least 3 pubs that have spirits other then the liquid type!
HAUNTED PUB TOUR
A fully loaded ghostly pub tour!Get ready to Face the Spirits! Your ghost/pub guide will spin the intoxicating tales while you enjoy the ales or other beverages at about 4 old haunts. You spend about 30 to 40 minutes in each pub so that you have time to soak up your favorite drink, the stories and the ghostly atmosphere before you'll step outside for a refreshing easy stroll to the next pub.
PARANOMAL INVESTIGATIVE  TOURS
Become a Paranormal Field Investigator for the night! We will share stories and anecdotes from the tour related to the sites we visit, and relevant historic details. The tour is not designed to frighten, but to engage and educate you in the investigation of haunted phenomena.