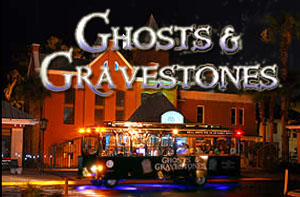 Explore the darker side of the Nation's Oldest City with your ghostly host and experience the historic haunted tales and legends found at every turn. You will visit three of the town's most haunted buildings for an up close and personal encounter with things that go bump in the night…do not look away as your journey leads you inside the Spanish Military Hospital, the Oldest Drug Store and the Authentic Old Jail!
The Old Drug Store rests upon an old Indian burial and is a natural gathering place for lost souls and malignant spirits. Enter… if you dare and learn the secrets of embalming and why so many people were buried alive.
Visit the death bed and hear of amputations and strange medical practices shared in whispered tones as you re-live the grizzly duties of 17th century medical practitioners at the Spanish military hospital.
Built in 1891, the Old Jail housed prisoners for over 60 years. Listed on the Florida and National Haunted Places Register, the Old Jail has been the site of countless supernatural occurrences. Many criminals met their maker here at the end of a hangman's noose.
Join us aboard the Trolley of the Doomed for a scary, fun and informative "FRIGHTSEEING" Tour you will never forget. All of the stories are well researched. The tour is rated PG-13.
Essential information:
Reservation recommended
Picks up and drops off at the hotel
Open: All days, tours starts at 8:00 PM and start every 20 minutes, thereafter, based upon reservations
The entire tour takes about 80 minutes
Web: http://www.trolleytours.com
167 San Marco Ave, (904) 826-3663