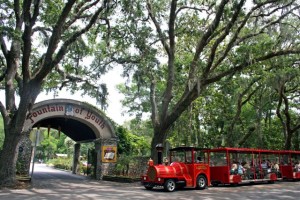 Fountain of Youth Archaeological Park was discovered by Ponce de Leon on April 3, 1513. This 15 acre, 500 year old park is centered around the Spring House which contains the original Fountain of Youth spring and the landmark cross. The landmark cross is made of 27 coquina stones and believed to be placed by Ponce de Leon to mark his historical landing. All visitors are invited to drink the rejuvenating waters while listening to a short 20 minute, sit-down presentation.
In-house attractions:
The Indian Village: Indian exhibition under roof
The Discover Globe: Visitors are immersed in total darkness and with the aid of a two story globe and black light, the audience is guided on a journey of early explorers and other important historical discoveries during this 8 minute seated presentation.
The Planetarium: A seated documentary focused on Ponce de Leon's voyage to the new world. Length of presentation is 15 minutes.
Timucua Indian Exhibition: Exhibits and artifacts from the Timucua Indian tribe.
Indian Burial Ground: Over 100 Indian skeletons were found on these grounds, both pre-historic and Christian Indian burials. This is one of the most important archeological sites found in the southeast United States.
Essential Information:
Open: All days 09:00 AM – 5:00 PM except Christmas Day
Recommended duration of visit: 2 hours
11 Magnolia Ave, (904) 829-3168 or (800) 356-8222