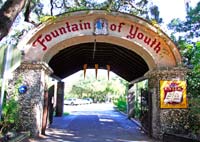 Welcome to Ponce de Leon's Fountain of Youth
The Fountain of Youth Archeological Park is a 15 acre, Historical attraction in
St. Augustine
, Florida.
Open daily from 9:00 a.m. to 5:00 p.m. We are closed on Christmas day.
When you enter our site at 11 Magnolia Avenue, you will pass beneath the archway of this world famous attraction, you are stepping onto the very property on which U.S. history began.
Seloy was the name of the Timucua Village, before the arrival of the Spanish in 1513, and with Ponce de Leon's claim of possession for the Spanish King, La Florida was born. No Spanish attempts that came later to colonize were successful…until the arrival of Don Pedro Menendez de Aviles on September 8, 1565. It is within the boundaries of this property that the oldest continuously occupied European settlement within our continental United States was formed — St. Augustine.
Over the next 350 years the property was farmed and citrus orchards grew here until 1901 and with the arrival of Diamond Lil', Dr. Louella Day McConnell, who traveled here from the Klondike and purchased the estate. Being a bright and enterprising woman of the day, she began to charge an admission price to drink from the waters of the free flowing spring found on the property.
Over the last 100 years, many thousands of guests have visited in order to sip the world famous waters and hear the history behind its legendary benefits. Of course while here, you may also visit our Discovery Globe, Navigator's Planetarium, Indian Burial Grounds, and Shipwreck Exhibit.
Don't forget to feed the peacocks and squirrels, and feel free to bring your own lunch and use our picnic area. Our ample parking is free and we are a pet friendly attraction.