Florida Agricultural Museum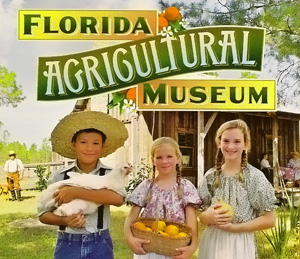 The museum is located 17 miles south of St. Augustine on the corner of Old Kings Road and U.S. Highway One in northeastern Flagler County.
Visitors to the museum can visit the archaeological site of John Hewitt's water powered sawmill, a fully restored 1890s pioneer homestead, a turn of the last century Dry Goods Store, five restored buildings from a 1930s Depression-Era citrus business, and a 5,000 square foot dairy barn formerly belonging to Governor of Florida, Millard Caldwell.
All of these buildings were moved from their original locations and renovated with grant funds provided by the Florida Department of State, Division of Historical Resources.
In addition to preserving Florida's agricultural past, the museum is also active in the conservation of heritage livestock including rare Florida Cracker Cattle and Horses. The Florida Agricultural Museum provides a fun and educational experience for all ages.
Flagler County and the St. Augustine area are number one for historic sites. Only minutes from downtown St. Augustine, the Florida Agricultural Museum is one of Flagler County's newest and most popular attractions.
In addition to a wonderful educational experience, we offer fantastic horse back riding on some of the most beautiful trails in Florida. Come share your family vacation experience with us offering fun for all ages.
Hours:
Wednesday through Sunday from 9 a.m. to 5 p.m.