EL GALEÓN & NAO VICTORIA IN ST. AUGUSTINE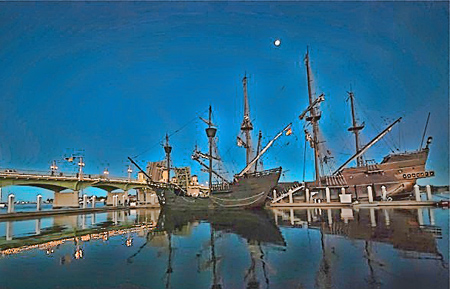 The St. Augustine Municipal Marina is the destination of two historic ships. The Nao Victoria arrived on Dec. 23, 2013, and will depart on Feb. 1, 2014. El Galeón arrived on Jan. 5, 2014, and will have an extended stay until July 2014.
The Nao Victoria is a replica of the first ship to successfully circumnavigate the world. El Galeón is a replica of the vessels that traveled the coasts of Florida between the 16th and 18th centuries, transporting men, goods, culture and ideas, creating ties between America and Europe.
Ship tours are available daily from 10 a.m. to 5:30 p.m.
Tickets for both ships are available at these locations.
– Ripley's Red Train booth located at the miniature golf course in front of the marina
– All Old Town Trolley Tours ticket locations
Pricing
– Nao Victoria – $10 for adults; $5 for youth
– El Galeón – $15 for adults; $8 for youth
– Both ships – $20 for adults; $10 for youth
Please note that arrival and departure dates and times are subject to change.