Eco Motion Tours – Segways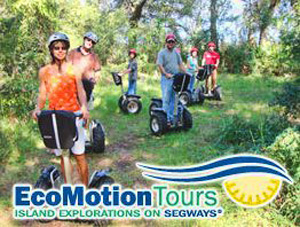 Welcome to EcoMotion Tours, the only tour of its kind.
We combine the fun of riding a Segway while touring pristine, park-protected island habitat.
We operate on Fort George Island all year long, Wednesdays through Sundays. Enjoy ridingl "off-road" on sandy trails through a beautiful coastal wildlife preserve – no pavement, no developments – just nature untamed! Friendly and knowledgeable eco-guides take you where the birds roost, turtles dig, and dolphins swim.
You can choose between our 2-hour trip in the morning, or take a shorter version of this trip in the afternoon. Both trips are beautiful and offer the "canopy comfort" of wonderfully shaded trails and Summer-time sea breezes.
Scenery: Ride sandy paths through a sub-tropical paradise out to the Timucuan Preserve's coastal wilderness of dunes, salt marshes and islands.
Stories: Your guides are eager to share the island's history, and its natural habitat for bobcats, tortoises, otters, colorful birds, butterflies, and native flowers.
Segways: Our cross-terrain models have the big tires for traction and big fun. They're also the easiest to learn to ride. Even self-proclaimed "klutzes" find it easy to do!