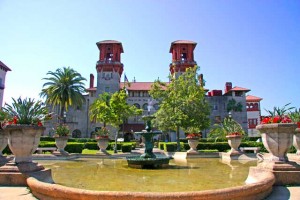 There are many great attractions, many of them historically significant, as well as the usual Florida tourist traps. The logical place to start is the Old Town area in downtown St. Augustine. The Plaza de la Constitutione, also known as the Old Slave Market, is the village green located in the center of town bewteen King Street and Cathedral Place. This is the epicenter of the annual "Nights of Lights" celebration, where the entire downtown area is illuminated by hundreds of thousands of tiny white lights from mid-November through the end of January. The Castillo De San Marcos is an old Spanish fort that dates back about four centuries, and provides a fascinating glimpse at a bygone era. Try to get there in time for the firing of the cannons. It's deafenning, but very cool.
St. George Street extends across the center of town, with about half of it closed to traffic, making it a pedestrian mall that spans several blocks. Here you can find a mix of tourist-type gift shops, restaurants, bars, and a couple of excellent shoe stores. You can also have your picture taken with a pirate.
There are two competing sightseeing tours in town, the Red Trains and the Old Town Trolley. Both offer three-day passes, hotel shuttles, and numerous pick-up and drop-off points. Among the highlights of the tours are such venerable attractions as The Fountain of Youth, Ripley's Believe it or Not Museum, Potter's Wax Museum, and The Old Jail. There are also boat tours that provide a different perspective as you cruise the Intercoastal Waterway.
Over the Bridge of Lions (a drawbridge that is charming for visitors, but a pain in the ass for locals) on Anastasia Island are several more attractions, including The Alligator Farm, Fort Matanzas, and Anastasia State Park. The island also features some beautiful white sand beaches, and dozens of condominiums that offer short-term rentals.
North of town off of I-95 is the World Golf Hall of Fame, featuring museum tours, an IMAX theater, and, of course, great courses.
If you're travelling by RV or boat, and have a TV with you, check out WQXT Channel 22, a local independent station that airs some great old televison classics like M Squad, Abbott & Costello, and even Amos & Andy. You can still catch reruns of my old movie show, Surreal Cinema ("The wildest and weirdest movies that time forgot to remember to forget"), Friday nights at 11 p.m.