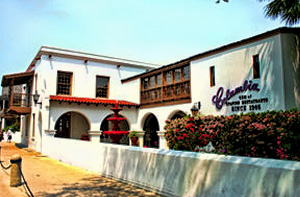 Located in the heart of the historic district on St. George Street. Enjoy our award winning Spanish/Cuban cuisine while eating lunch or dinner in our outdoor courtyard or dining rooms filled with hundreds of hand-painted tiles and Spanish-style fountains.
The Columbia is located within walking distance of several historic landmarks including Castillo de San Marcos National Monument (the oldest masonry fort in the United States), the Spanish Quarter, Flagler College, and Casa Monica.
The award-winning cuisine is set in an atmosphere of beautifully Spanish designed rooms, such as the indoor patio dining room. The restaurant's tapas, such as the scallops "Casimiro" are colossal fresh scallops baked in clay casserole with butter and topped with seasoned breadcrumbs and white wine; the dish is fantastic. In addition, Columbia's signature salad, the Original "1905" Salad, is mixed tableside with gems of julienne of bake ham, olives, cheeses and a special garlic recipe. And, for entrees, the Paella Campesina is a luscious combination of Valencia rice with tender bits of beef, pork chicken and chorizo.