Colonial Spanish Quarter Museum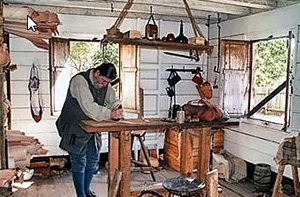 Step back in time to 1740's Spanish St. Augustine
As you stroll through this garrison town, leave today's world behind and discover life in another time. Visit with the blacksmith, carpenter, or soldier's wife as they go about their daily activities. Located at 29 St. George St., you'll see costumed historical interpreters tell the story of everyday life in 1740's St. Augustine when the city was a remote outpost of the Spanish Empire.
Discover St. Augustine's best kept secret and only living history museum!  The museum is open daily and tours are self-guided.
Guided tours are only available for student or adult groups of ten or more people. These tours are available by advance reservation only.
Hours:  9 a.m. to 4:45 p.m. seven days a week.