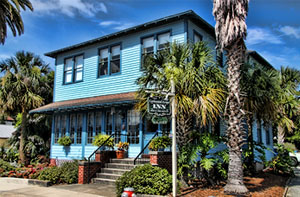 Luxury in the Historic District
Fully restored, Centennial House is a premier eight room inn offering simple elegance in a comforting atmosphere with private luxury baths, oversized whirlpools, fireplaces, cable TV/VCR, complimentary video library, sound insulation for privacy, and climate control in each room.
The Centennial House, a home listed on the National Register of Historical Places, offers guests a seamless blend of 19th century ambience and 21st century creature comforts.
Centennial House, built on a St. Augustine land grant dating back to the 1790's, was originally constructed between 1899 and 1904. Lack of detailed records cloud precise construction dates. This makes the Centennial House relatively new in comparison to surrounding St. Augustine, the nation's oldest city, founded in 1565. The house was built for J.D. Oliveros, a St. Augustine councilman. In 1998 Centennial House received a major renovation and opened it's door to guests in January 1999.
   
The Ancient City awaits you…on foot!
Descend our porch steps and you are transformed into a turn of the century city dweller. Experience the city life of St. Augustine and leave your car keys with your luggage!