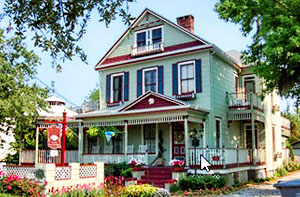 Welcome to Cedar House Inn Victorian Bed and Breakfast located in the heart of the historic district of St. Augustine Florida. Experience the elegance and romance of the charming Victorian Era while enjoying 21st century amenities at Cedar House Inn. Romantic and memorable moments await you at the beautifully restored 1893 Victorian home of Cynthia Humphrey.
Cedar House Inn is an intimate 7-room Bed and Breakfast located in the heart of downtown, within walking distance of historic sites, museums, fine dining, quaint shops, and many other wonderful Things To Do in St Augustine FL. In keeping with the heritage of the home, with its polished pine floors and 10-foot-high ceilings, the bedrooms are decorated to embrace the aesthetic of Old Florida. Each Air Conditioned Guestroom contains a King or Queen Bed, Private Bath, Flat Screen TV with DVD player, Wi-Fi High Speed (DSL) access, coveted On-Site Parking, and glorious Wrap-Around porches. Four guestrooms have Jacuzzi Tub and Showers. Representing premier accommodations, Cedar House Inn is the optimum in St. Augustine lodging.
Cedar House Inn is located on a quiet, tree-lined street in the heart of St. Augustine. It offers easy access to the beach, which makes it the perfect St Augustine Beach Lodging. At Cedar House Inn, the emphasis is on hospitality, relaxation, and comfortable surroundings. Inside, relax by the wood-burning fireplace in the parlor while listening to classical music and enjoying a complimentary glass of Port. Challenge your fellow guests to a game of chess at the antique game table, or lose yourself in an intricate jigsaw puzzle in search of the elusive piece. Outside, enjoy mild temperatures and views of historic St. Augustine while relaxing on the Inn's many porches and balconies. Cedar House Inn is the perfect place for a St. Augustine getaway.