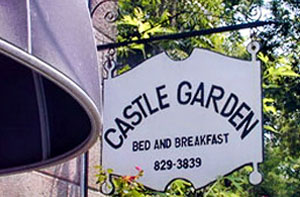 At our romantic St. Augustine Bed and Breakfast in the historic district, Every guest is sent as a gift of God. You deserve the best treatment so why not go all the way and stay in a historic bed and breakfast Castle in St. Augustine that treats you like Royalty.
CASTLE GARDEN, the ONLY coquina bed and breakfast in historic St. Augustine that is registered on the National Register!
Spanning three centuries since 1887 Castle Warden was built for William Grey Warden and his family as a winter residence in tropical St. Augustine, Florida. Castle Warden now houses the famed Ripley's Believe it or Not Museum. The 160 year-old Castle Garden Bed and Breakfast, formerly the Castle Warden Carriage House with its unusual coquina stone exterior, remains virtually untouched. With the foundation and chimney from the old blacksmith's shop still standing, you can visualize the generations past of the mediaeval wonders of the Blacksmith's art. The pounding of the blacksmith's hammer resonated music throughout the garden simulating drum beats of the early tribes of Indians living beyond the walls of St. Augustine.
This beautifully renovated 1860's Moorish Revival Inn has been lovingly restored by brothers Bruce and Brian Kloeckner with every room in the Castle meticulously decorated with antique and period home furnishings.
Castle Garden is located in the heart of the "Oldest City" in the United States, St. Augustine, Florida. You are just steps away from the historic fort Castillo de San Marco and the Bridge of Lions, where you can take a romantic tour of the city in a horse draw carriage.
Castle Garden
Bed and Breakfast

15 Shenandoah Street
St. Augustine, Florida 32084
+1 (904) 829–3839