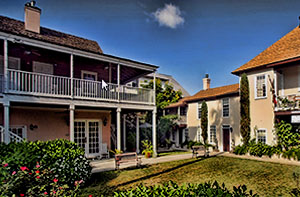 Casa de Solana Bed & Breakfast Inn is located in the historic district of St. Augustine, Florida a block from Mantanzas Bayfront.
This is a Romantic Bed and Breakfast and is perfect for all the taking. The inn's lush tropical gardens draw you into a magnificant splendor of days past. The inn is located on 21 Aviles Street, the oldest european settled street in the country. The cobble stoned streets of old St. Augustine lead you on a historic journey discovering our country's true beginnings. Touring St Augustine with architectural structures from the Gilded Age and beyond is an incredible accomplishment itself.
Casa de Solana combines old world charm with modern comforts. The inn was built in 1763 and is one of St. Augustine's oldest residences. Casa de Solana takes its name from the original owner, Don Manuel Lorenzo Solana, a member of one of the city's first Spanish families. The narrow streets offer incredibly charming restaurants, museums, galleries, antique shops, historic sites and a variety of shopping experiences.
Everything the city has to offer is within easy walking distance of the inn. The city is a rich cultural center, with special events held in the old city throughout the year. Festivals fill the calendar year-round, many celebrating historic events and colonial reenactments. The enclosed courtyard a perfect setting for a small wedding or family gathering.
Casa de Solana
Bed and Breakfast

21 Aviles St.
St. Augustine, Florida 32084
+1 (904) 824-5214