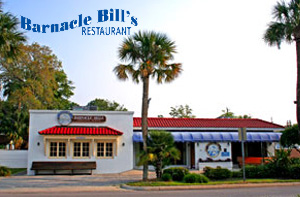 Barnacle Bills has been a local tradition since 1981 when Chris Way, 24 years of age was encouraged by the local mayor to expand on his talents and put what he learned in the restaurant industry to use on a grander scale. In May of 1981, Barnacle Bills was born at 14 Castillo Drive, in the historic dowtown district of St. Augustine followed by Barnacle Bills Beachside location in 1992.
In the "Best of St. Augustine Awards" and the winner of the
" Taste of the Beach" , Barnacle Bills offers a family oriented atmosphere and serves only fresh seafood complemented with a variety of signature entrees, fresh vegtables and homemade desserts.
We feature a variety of grilled, broiled, steamed, blackened,
and fried seafood items.
Steaks, pasta, chicken, alligator,
homemade desserts, and creative entree salads.