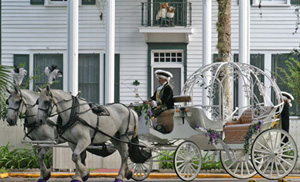 Step onto an Avalon Carriage for a two and one half mile ride along narrow, tree-lined streets. As you slowly pass by centuries old structures, your driver will narrate the story of old Saint Augustine.
Avalon Carriage has a variety of carriages available – a 6-passenger Vis-a-Vis, a Surrey that accomodates 12 adults, to an 18 person Trolley and a Hay wagon.
If you are visiting in St. Augustine we offer a fully narrated tour of the city given by a licensed Driver/Guide. You will spend about one hour traveling on two and a half miles of historic St. Augustine's narrow, colonial streets.
Weddings, special events, parties and other specialties can be arranged. Choose from a variety of Vis-a-Vis style carriages, wedding carriages,sleighs, antique carriages, "Jury Surrey's" and, of course, a hay wagon or trolley!
St. Augustine Transfer Co. is the nation's oldest continuing operated carriage company