The St. Augustine Pub Crawl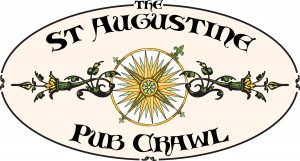 St. Augustine's Favourite Walking Pub Tour!
The St. Augustine Pub Crawl isn't your average 'pub crawl', but it is a historical walking pub tour visiting 5 of St. Augustine's most unique, authentic pubs and taverns. You will experience a slice of the local St. Augustine culture whilst enjoying tales of St. Augustine's history along with traditional 'Pub Lore' of times gone by, around the world. Your tour ticket includes a beverage at each pub stop (premium beer/ales/cider, soda or coffee).
Our tour is a unique mix of local colour and the traditions of 'Public Houses' throughout time, historical St. Augustine, and the world. Our average tour participant is between the ages of 29-65 (quite the range!), and the tour itself is more high-brow than perhaps a college pub crawl. Please note that the only 'spirits' on THIS tour are IN the pint glasses!