44 Spanish Street Bed and Breakfast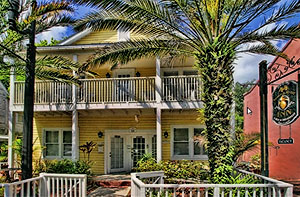 Spanish Street is the perfect location in the heart of the historic walking district of St. Augustine, Florida. One block away in all directions are St. George Street, Cordova, Hypolita, and Cuna Street.  Where you can find numerous boutiques, restaurants, coffee houses, art galleries, shops, museums, and historic sites are located.
44 Spanish Street Bed and Breakfast is just three blocks away from the scenic bay front where guests can enjoy a tour of the city's Old World charm, either by horse-drawn carriage or by a clipper ship along the shoreline. The evening air is filled with enticing aromas and your visit will be set to the relaxing live music from the neighboring pubs and outdoor restaurants.
Relax at your own pace and enjoy the privacy of your own space, in the Inn's vintage brick courtyard, front or back 2nd floor terraces, or inside the courtyard dining room.